To log in to the City of Austin's drupal website, please follow the steps outlined below.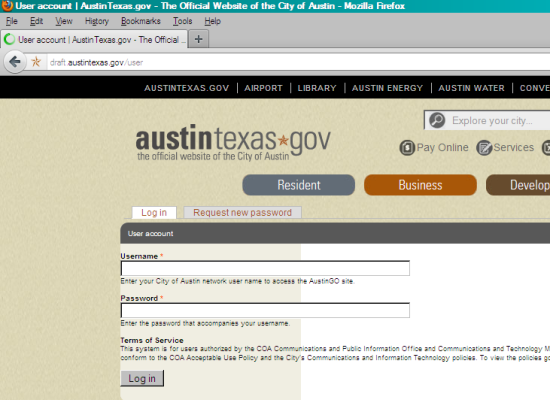 Launch Mozilla Firefox, the preferred web browser for using the system.  Microsoft Internet Explorer is not recommended. You can download and install the latest version of Firefox for free.  Please contact the CTM Help Desk for desktop support. 
Access the production system at draft.austintexas.gov:8080/user to create and edit all of your content. Please view tips below for using the production system below before first logging in.
Enter your username (last name and first initial - all lowercase).
Enter your password (case sensitive).
Click Log In.
Bookmark "http://draft.austintexas.gov:8080/user " to ensure you always have the log-in page, since a link to this page does not exist on Drupal website itself.
Draft.AustinTexas.Gov vs. AustinTexas.Gov
The City of Austin uses the production URL draft.austintexas.gov:8080 for all creation and editing of content. The public URL is simply www.austintexas.gov. These sites appear the same; however, there are some vitally important differences between the two.
The "draft.austintexas.gov" URL is only available on the City network; therefore, it is extremely important that you make sure that any links given to the public do not have the "draft." part in the URL. If it is there, simply remove that part of the URL, so the URL you give to the public starts with www.austintexas.gov. Otherwise, the public will not be able to access the links you give to them, even though you can see the content on the City network.
All creation and editing of content must be done through the URL draft.austintexas.gov.
If for some reason, you are encountering errors while editing (specifically issues with uploading documents and/or images), please check to make sure that the URL of the page you are editing begins with "draft." If it does not, please add this to the URL, hit enter and then edit the page as before.