Parkland Dedication Fee Collection and Expenditures
Fee collection and expenditures for parkland dedication are tracked within 27 park planning areas found in the 2010 PARD Long Range Plan for Land, Facilities and Programs. The 27 planning areas were developed for planning purposes and are based on U.S. Census tracts. A quarterly report shows the available Parkland Dedication funds by planning area with the priorities for expenditure from the Long Range Plan within each planning area.
Parkland Dedication Cases and Project Information - View an interactive map displaying each individual "case" in which parkland dedication fees were paid since October of 2011. A "case" is described as a subdivision or site plan submitted to the City of Austin for approval through the Development Services Department. Cases are identified as points on a map with the case name, case number, address of the case and fee paid. In addition, information is posted showing the land acquisition or park project the case was assigned to fund.
Points are identified as available, planned, complete.
Available cases are funds that have not been assigned to either land acquisition or a park improvement project.
Planned cases are funds that have been assigned to to either land acquisition or a park improvement project.
Complete cases are funds that were assigned and the project is complete.
For more detailed information regarding available Parkland Dedication funds and/or expenditures please send an e-mail with your request.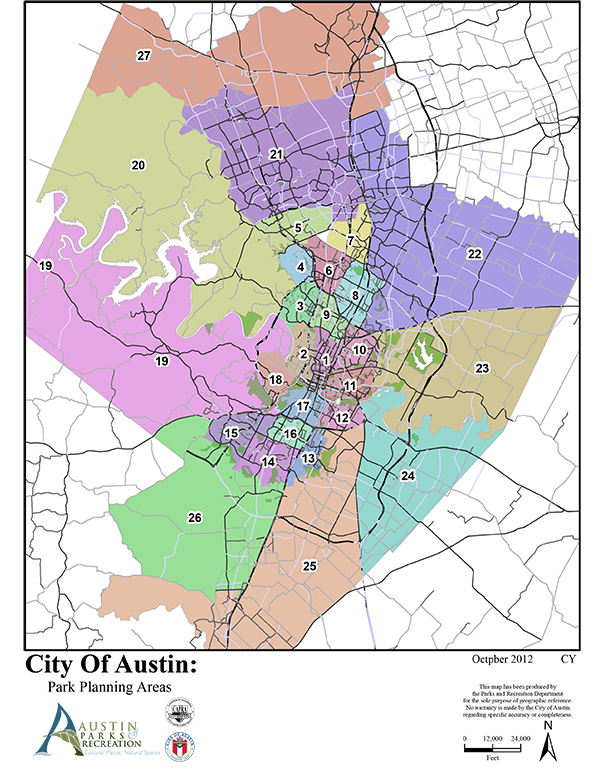 The expenditures are prioritized within each planning area.  These priorities are based on following order:    
Possibilities for land acquisition in a "Parkland Deficient Area".  The deficient area map can be viewed on the City's Development Web Map by checking the Parkland Deficient Area layer under the Development Resources tab on the right hand side of the screen.
New park amenities within a two-mile radius of where the funds were generated
Priorities within the planning area based on PARD's Long Range Plan
New park amenities to the nearest district or metropolitan park
This is a child page of::