Spirit Airlines announced 9 destinations November 14, 2018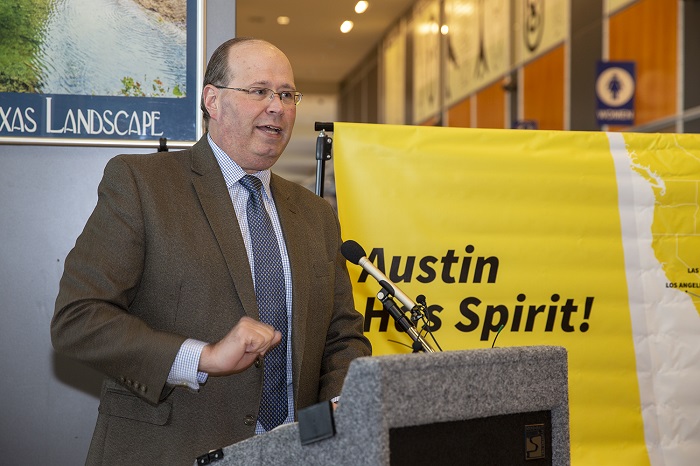 Mark Kopczak, Spirit Airlines' Vice President of Network Planning announces daily nonstop service from Austin to nine domestic destinations, beginning Feb. 14, 2019.
AUSTIN, Texas – Spirit Airlines has announced that they will begin offering daily nonstop service from Austin to nine U.S. cities beginning in early 2019. This will add to the total number of carriers serving Austin-Bergstrom International Airport and provide more flight options to travelers.
"Central Texas travelers will benefit from Spirit Airlines distinctive service," said Jim Smith, Executive Director of Austin-Bergstrom International Airport. "This expands our travel options and we welcome Spirit to the airport."
Daily nonstop service between Austin and Baltimore/Washington, D.C., Chicago, Denver, Detroit, Fort Lauderdale, Las Vegas, New Orleans and Orlando will begin on Feb. 14, 2019 with additional service to Los Angeles starting on May 2. Travelers can learn more and search flights online at www.spirit.com. 
A complete list of available nonstop flights from Austin-Bergstrom is available online at: http://www.austintexas.gov/department/nonstop-flights-out-abia. 
"Austin is not only a booming hub for music, cuisine and the arts, but it has quickly become an economic driver for multiple other industries," said Mark Kopczak, Spirit Airlines' Vice President of Network Planning. "Texas' capital city is a place where we believe our affordable fares and signature service on nonstop flights will resonate and bring both visitors and local residents in and out of the heart of Texas. We are offering not one or two, but nine different nonstop destinations because we know Austin is ready for Spirit."
The airport of choice for Central Texas is Austin-Bergstrom International Airport (AUS). New nonstop international flights include Frankfurt, Germany (FRA) on Lufthansa www.lufthansa.com; London Gatwick, United Kingdom (LGW) on Norwegian Air, www.norwegian.com/us;  Guadalajara, Mexico (GDL) on Volaris, www.volaris.com; and Mexico City, Mexico (MEX) on AeroMexico, www.aeromexico.com. Find all nonstop routes with the free interactive flight guide on www.abia.org. Connect with us on Twitter, @AUStinAirport, Facebook, www.facebook.com/abia and on Instagram, @AUSairport.