Cases:      18-0600559
Date:         Thursday, March 1, 2018
Time:         Approximately 9:30 a.m.
Location:   Wood Forest National Bank (Walmart) – 12900 N. IH 35 Svrd Sb
          
The Austin Police Department Robbery Unit and the FBI Central Texas Robbery Task Force are investigating a bank robbery that occurred on Thursday, March 1, 2018, around 9:30 a.m. at the Wood Forest National Bank located inside Walmart at 12900 N. IH35 SVRD SB. The suspect presented a note demanding cash and fled on foot without completing the robbery. There were no reported injuries during the robbery.
Suspect described as:
• Black female possibly a male wearing a wig
• Shoulder length hair
• 6' – 6' 2"
• Thin build
• Approximately 140 lbs
Suspect was last seen wearing:
• Sunglasses
• Black hoodie
• Black pants
• White shoes
Suspect Photos: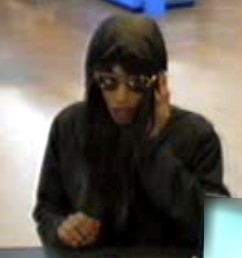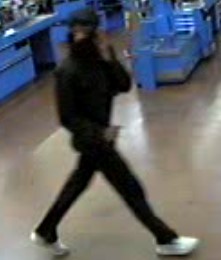 Anyone with information about this incident is asked to call the APD Robbery tip line at (512) 974-5092, Crime Stoppers at 512-472-TIPS or use the new Crime Stoppers App. You can also submit tips by downloading APD's mobile app, Austin PD, for free on iPhone and Android.