Austin Water is committed to excellent customer service and takes your high water bill concerns seriously. 
WHAT YOU CAN DO
If after taking these steps you still feel your bill is high, please contact our customer service team at 512-494-9400. We will review your water usage and possibly direct you to apply for a water bill adjustment. 
WATER BILL ASSISTANCE
WATER BILL SMOOTHING
What is bill smoothing?
For customers the City has identified as experiencing an unusually low August and unusually high September bill in 2017, water use will be spread evenly across August and September to "smooth" the bill if it will result in a reduction of charges. For many, the smoothing effect does not result in a credit because it does not change the tiers used to bill for the water.  By averaging the total amount of water used over August and September, we can minimize the effect of higher rates in upper billing tiers.
How does smoothing work?
The smoothing process will total the amount of water billed in August and September and divide by two. An affected customer's bill will then be cancelled and reissued with equal consumption for August and for September. For instance, if a customer was billed for 4,000 gallons in August (tier 2) and 12,000 gallons in September (tier 4), the amount would be averaged to reflect 8,000 gallons (tier 3) for August and 8,000 gallons for September.
For more examples of how this may or may not result in a credit to the customer, please see the helpful graphic blow or visit the Water Bill Smoothing For Affected Customers - Frequently Asked Questions Page.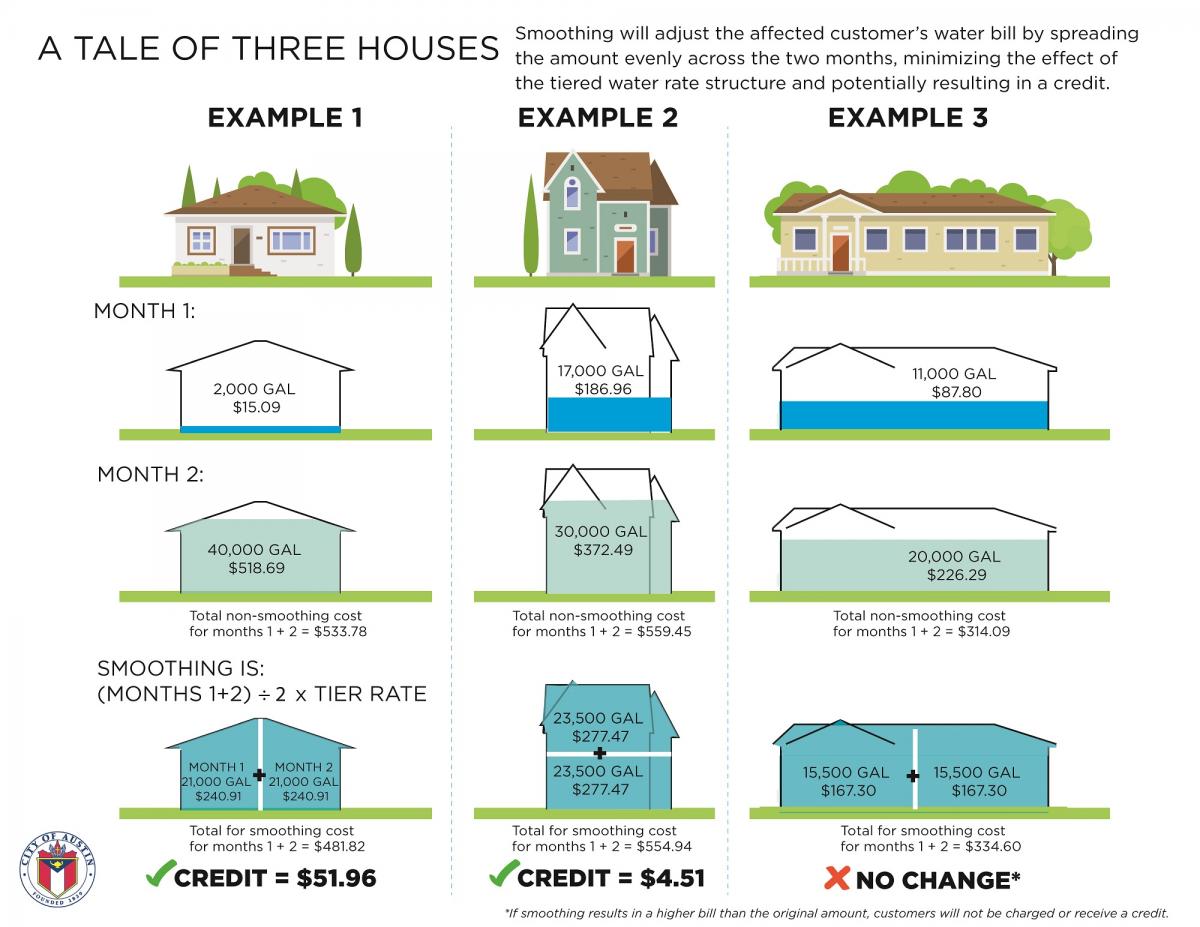 WATER LEAK BILL ADJUSTMENT
To request a water leak bill adjustment (City of Austin Code 15-9-141), you must:
Contact Customer Care (512-494-9400) within 90 days of leak repair. You will be asked to provide:
A copy of the repair receipt or paid in full invoice
Your Austin Water account number
The property address where the repair took place
Range of high bill dates caused by the leak
The date and description of the repair
Fax these documents to 512-505-4035 or email to customercare@coautilities.com
WATER BILL ADJUSTMENT
To be eligible to submit an application for a non-leak water bill adjustment (City of Austin Code 15-9-142), you must:
Be a single-family residential customer with at least 12 months of water billing history at the service address
Have not received an adjustment in the past 2 years
Have been billed for water usage greater than or equal to three times your normal usage
Contact Customer Care (512-494-9400) within 90 days of the high use bill
Complete and submit the High Volume Water Bill Adjustment Application
If eligible, half of the charges above your normal usage will be credited to your account and the remaining amount will be adjusted to a discounted rate.
MEMOS + REPORTS
RESOURCES