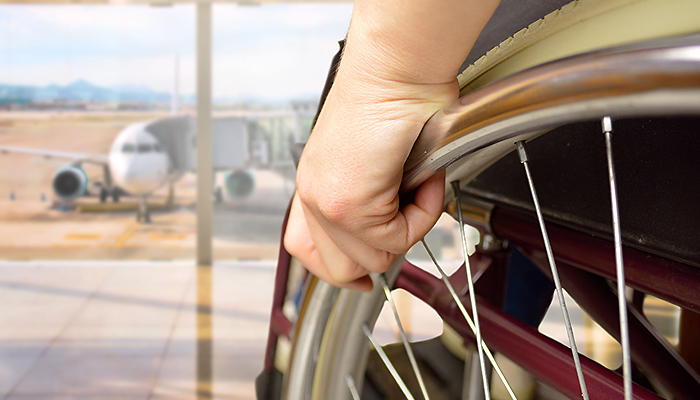 Before You Go
Provide advance notice to your airline if you require assistance. Your airline will assist you through the airport and the screening queue line.
If you require a companion or assistant to accompany you through security, talk to your airline about obtaining a gate pass for your companion before entering security checkpoint.
The limit of one carry-on and one personal item (purse briefcase or computer case) does not apply to medical supplies, equipment, mobility aids, and/or assistive devices carried by, and/or used by a person with a disability.
Pack medications in a separate pouch/bag to facilitate the inspection process. Ensure that containers holding medications are not too densely filled, and that all medication is clearly identified. It is recommended that passengers do not pack medications in checked baggage. Tip: Mail large quantities of medications ahead of time.
Services for Travelers with Disabilities
In accordance with the Americans with Disabilities Act (ADA), Austin-Bergstrom International Airport has been designed to meet the needs of our diverse travel population. Travelers with disabilities requiring immediate assistance call  512-530-2242
You'll find accessible elevators, water fountains, restroom facilities, videophones, and signs with raised lettering and Braille, as well as convenient parking.
Accessible parking places are located in the parking garage closest to the terminal, and adjacent to the covered shuttle stops in the parking lots.
Accessible airport shuttles are available to assist passengers with mobility impairment from On-Airport Parking to the terminal.
Wheelchair service is available from curb to aircraft. The floors of the airport are level to facilitate wheelchair mobility.
Escorts are available for those needing assistance through the airport, such as those with visual or mobility impairments. You can request an escort from an airline representative in the terminal.
Security screening uses equipment, like hand-held metal detectors, designed to accommodate travelers with special needs. This screening is performed to the side of the security checkpoint.
Pedestrian walkways have accessible contrasting floor surfaces to aid those with visual impairments in navigating through the terminal more easily.
Aircraft are wheelchair accessible through jet ways. In the case of smaller jets loading from the tarmac, wheelchair lifts are used.
Seating on aircraft can accommodate special needs. Inform your airline of your needs when booking your travel arrangements. The Air Carriers Access Act ensures that passengers with disabilities are accommodated in their travel needs.
Guide Dogs might need a break! The dog walk area offers a place for guide dogs to relieve themselves, and it's located outdoors, just east of the terminal on the lower level.
Tips for the screening process. Private screening areas are available upon request at each checkpoint at Austin's airport.
Have questions about passenger screening and medical conditions or disabilities? Call  1-855-787-2227 or visit TSA Cares.
Transportation Security Administration Consumer Hotline
To file a complaint call  866-289-9673 or e-mail TSA-ContactCenter@dhs.gov