Resources to learn about developing Green Roofs in Austin
What is a Green Roof?
Learn all about them from the Environmental Protection Agency.
Benefits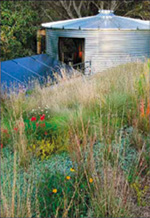 Green roofs add value to structures, providing insulation, green space, sanctuary for wildlife, a place for ecology education and food production. They can reduce storm water runoff.
Millions of square feet of roof space could be utilized in the Central Business District for green roofs, supporting and improving quality of life, the natural environment, sustainability and unique community character.
Discover more ways to reduce urban heat and cool your space and more earth-wise gardening techniques.
Case Studies
Developers:  Add a Green Roof, Get Cool Credits!
Projects that incorporate Green Roofs can earn incentives from the City of Austin.  Learn more here:  Existing Credits Fact Sheet. (There are currently no existing rebates or price reductions for Green Roofs).
 
GRAG Reports
Green Roof Advisory Group 2011 Report
Green Roof Advisory Group 2010 Report