In April 2017, the City of Austin Public Works Department, in conjunction with Austin Water, began the Gonzales Lift Station Abandonment Project. This station has been in operation since the 1950s and is the oldest lift station operated by the City of Austin. 
After assessing its previous state, and the possibility of rehabilitation, the City determined that abandonment was the best option, as the station had reached the end of its useful life. The product was re-routed to a nearby gravity wastewater line and the lift station was removed. 
Due to contractor error, the flow of wastewater does not meet original requirements and the contractor has began correcting the original work that was done to the wastewater line. This work is necessary to eliminate wastewater backups which will degrade the wastewater line over time and cause sanitation issues.
Construction Time Frame - Updated March 2019
Mar. 2019 – May 2019
Dates are projected as accurately as possible, but are subject to change. 
The contractor began correcting installation of the gravity wastewater main on March 4.
Traffic control measures are in effect. We ask residents and motorists to be mindful of the construction area and follow signage/detours.
We are working to ensure an expedient and dilgent plan and appreciate your coooperation in this effort.
Project Summary
The project included:
Installation of a wastewater gravity main and appurtenances
Jacking and boring for insertion and installation of a steel encasement pipe
Cast-in place and precast manholes at the Boggy Creek bed
Abandonment of the existing lift station
Project Area
Construction work will take place on Tillery St between E 7th St and Lyons Rd.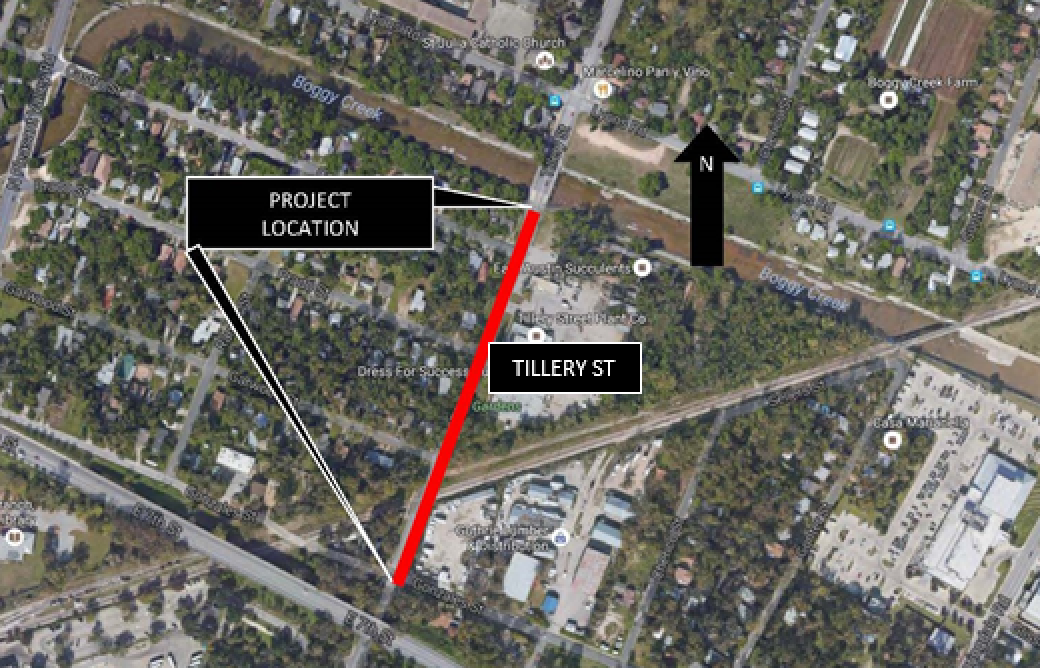 Frequently Asked Questions (FAQs)
Q: Will you be closing streets?
A: We will be closing lanes of traffic, but not entire streets.  You will always have access to your home. However, driveway access and parking may be limited for brief periods.
Q: What are the working hours? Which days?
A: The work days are generally Monday through Saturday, though some Sundays may be required. The work hours are generally 7 a.m. to 7 p.m. in the City's right of way.
Q: How loud will it be?
A: You will hear heavy equipment and backup beepers throughout the working hours. Idling of equipment is restricted.  The City's noise ordinance applies after 10 p.m.  Please work with the City's Inspector if you have specific noise issues.
Q: How will you update us about construction?
A: Once construction begins, we will send out periodic updates via email and hard copy flyers to affected businesses and residents. If you would like to join our email listserv, please email Matt Hart (contact below).
Contacts
Tony Lopez, Project Manager
Public Works
Email
512-974-6581
Matt Hart, Public Information
Public Works
512-972-7268
Email