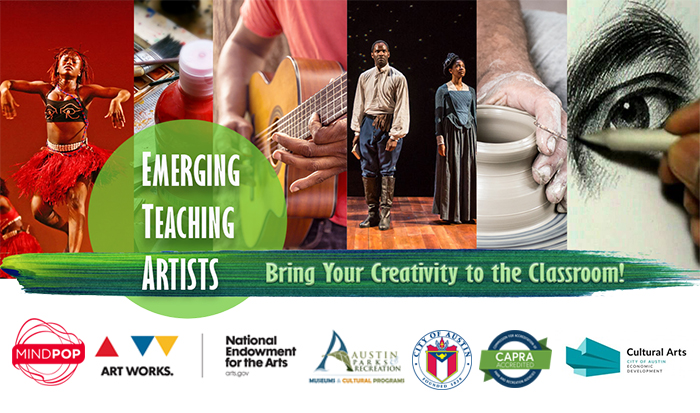 Mondays & Wednesdays
6:00-9:00pm
October 7-November 13, 2019
Locations: Dougherty Arts Center and other Austin arts and cultural sites
Bring your passion for art and creative gifts to schools and children – become a teaching artist! In collaboration with MINDPOP, this application-based fellowship program is for artists of color and artists who identify as having a disability, to learn effective and engaging techniques and strategies for teaching art in the classroom and the community.
Learn the ins and outs of:
Classroom & Behavior Management
Curriculum Development & Lesson Planning
Creativity & Arts Relevance
Cultural & Social Relevance
Working with Diverse Populations
Effective Facilitation
Career Preparation & Development
Applications are now open! Deadline extended to Saturday, September 14!
Apply Here: https://doughertyartscenter.submittable.com/submit
ETA is a partnership between MINDPOP and the City of Austin Parks and Recreation Department, Museums and Cultural Programs, and is funded by the National Endowment for the Arts.
The City of Austin is committed to compliance with the Americans with Disabilities Act. Reasonable modifications and equal access to communications will be provided upon request. For assistance please contact (512) 974-3914 or Relay Texas 7-1-1.