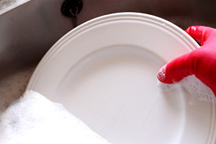 Install a low-flow aerator on your kitchen faucet. Free aerators are available to all Austin Water customers.
When washing dishes by hand, don't leave the water running. Fill one sink or basin with wash water and another with rinse water.
Scrape food from plates instead of rinsing them before washing. Newer dishwashers and detergents get dishes clean without needing to pre-rinse.
Wash fruits and vegetables in a bowl or basin using a vegetable brush instead of letting the water run. Then use the wash water to water your plants.
Don't use running water to thaw frozen foods. Thaw food overnight in the refrigerator or use your microwave's defrost setting instead.
Chill water in the refrigerator instead of running the faucet until the water gets cold.
Cook food in as little water as possible and put a lid on the pot. This will also help food keep more nutrients. Use water left over from cooking foods like pasta and vegetables to water plants.
Start a compost pile or scrape food into the trash instead of running your garbage disposal. If you must use your disposal, only run it once a day to reduce water use.
If you have a dishwasher, use it rather than washing dishes by hand. Efficient dishwashers use as little as four gallons per cycle.
Run only full loads in your dishwasher.
Use one glass for drinking water each day or refill a water bottle to cut down on the number of glasses you need to wash.
Soak pots and pans instead of letting water run over them while you scrape.
If you drop ice cubes from the freezer or have cubes left over after finishing your drink, don't throw them in the sink. Put them in a plant instead.
If you are shopping for a new dishwasher, buy the most efficient model you can.The Consortium for Energy Efficiency has developed a list of energy- and water-efficient models.