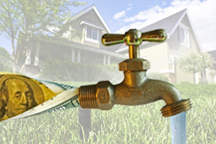 Check for and repair all leaky faucets, fixtures, and pipes both inside and outside your home.  Listen for dripping faucets and running toilets. Fixing these can save hundreds of gallons of water a month.  Check the water supply lines under your sinks for damp spots or bulges in the hose, which may indicate a leak.
Check your water bill to track your water use and keep an eye out for unusually high use that could indicate a leak.
Use your water meter to check for hidden water leaks.  Turn off all indoor and outdoor faucets and water-using appliances and check your water meter at 10 to 20 minute intervals. If it continues to turn or run, a leak probably exists and needs to be located.
Make sure you know where your master water shut-off valve is located. This could save gallons of water and prevent damage to your home if a pipe were to break.
Winterize outdoor spigots when temperatures are expected to dip below freezing to prevent broken pipes.