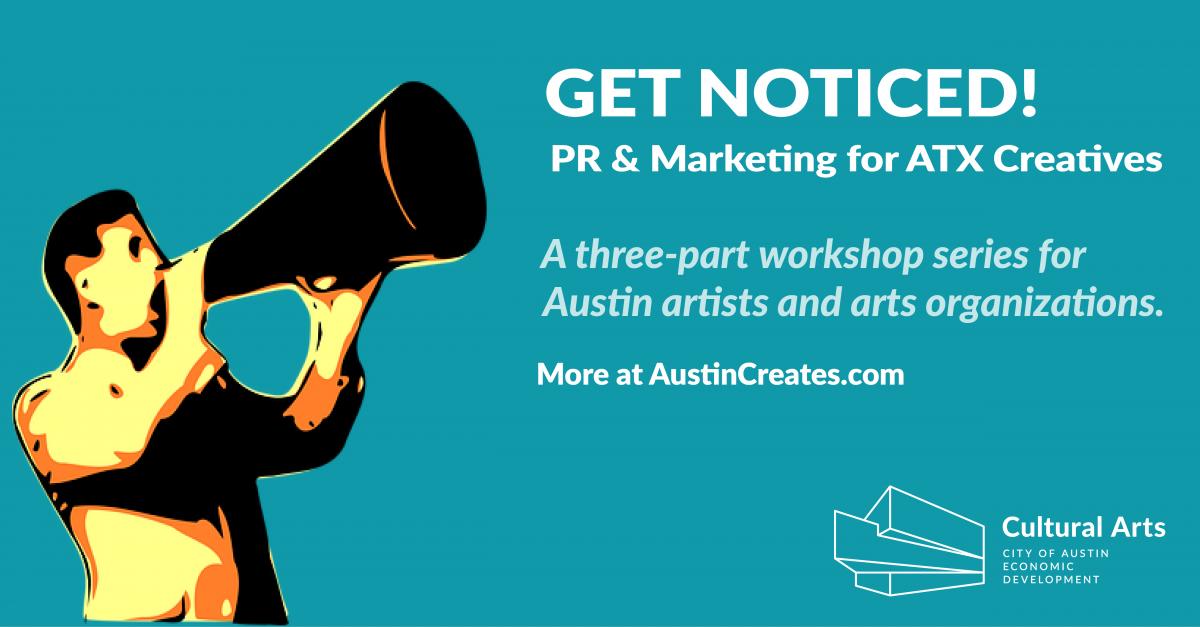 The Cultural Arts Division announces GET NOTICED! PR & Marketing for ATX Creatives. As a recommendation in the Austin Music & Creative Ecosystem Omnibus Resolution to more fully support and sustain Austin's arts community, the Cultural Arts Division is offering the workshops as free professional development opportunities. The three-part series, created with input from PR and marketing professionals, CAD staff, and key local media, will be hosted August 2, September 5, and October 4. Each workshop will provide local artists and arts organizations essential public relations and marketing strategies to help them promote their projects and engage more successfully with their constituents. Recordings of each workshop and supporting printed material will be posted to the Cultural Arts Division website after each event.
Workshop #1 – PR and Marketing for the Arts
This workshop was hosted in August 2, 2017. To view the Powerpoint presentation from the workshop, click here. To view a video of the event, click here. For access to the Resource Packet provided to attendees, click here.
This workshop provided an overview of fundamental public relations and marketing best practices for artists and arts organizations. Kathleen Stimpert (PR and Marketing Specialist for the Cultural Arts Division) and Krissi Reeves (City of Austin Arts Commission and Vox Solid Communications) reviewed basic PR and marketing principles and presented actionable plans for promoting artistic projects. The workshop included:
Public relations vs marketing (overview and definitions)
Creating messaging and branding
Writing press releases and pitches
Media relations
Community Calendar listings
Cross promotion, community engagement, and scene building
Social media marketing (basic overview)
Workshop #2 - Social Media Marketing & Audience Engagement
This workshop was hosted on September 5, 2017. To view a Powerpoint of the presentation, click here. To view a video of the event, click here.
This workshop was presented by Alie Cline (former digital strategist of Texas Monthly and the Blanton Museum of Art, currently with Spredfast). The session simplified the complex—and sometimes overwhelming—world of social media, allowing creatives to use digital tools and strategies to support their promotional efforts. The workshop included:
Social media basics (which channels are right for you?)
Facebook Events
Creating engaging content—not just one-way promotions
Building online audiences
Understanding analytics
Facebook ads and social media marketing
Workshop #3 – Arts Media Roundtable
This workshop was presnted on October 4, 2017 at the Carver Museum. To view a video of the event, click here.
This panel, comprised of local arts media, provided advice, tips and war stories about covering the Austin arts scene. The goal of the panel was to offer artists and arts organizations insight into how to best interact with the media and utilize media outlets to support the success of their projects. Panelists included Jeanne Claire van Ryzin (freelance writer), Michael Lee, (KUT), and Robert Faires (Austin Chronicle), and Sarah Thurmond (Austin Monthly.)
Register: http://bit.ly/2uq7Nvi