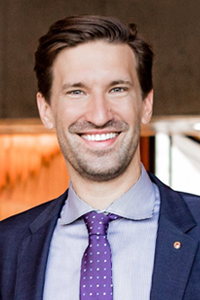 Before joining the City of Austin, Spencer Cronk was Minneapolis City Coordinator (City Administrator). He directed the management of Minneapolis city government by assisting the Mayor and City Council in defining City policy and establishing priorities, mobilizing department heads and staff to implement the Mayor and Council's priorities, and working to strengthen the management and administrative systems of the City.
Mr. Cronk previously served as Commissioner of the Minnesota Department of Administration, a role he was appointed to by Governor Mark Dayton in 2011. As Commissioner, Mr. Cronk led the state's real property, purchasing, fleet, demographic analysis and risk management divisions responsible for more than $2 billion in State purchasing and the historic renovation of the Minnesota State Capitol. Additionally, Mr. Cronk also served as chair of the Minnesota Public Data Governance Advisory Committee, and as a member of the Environmental Quality Board and the Minnesota Indian Affairs Council.
Before joining the State of Minnesota, Mr. Cronk served as executive director of organizational development and senior advisor for the Department of Small Business Services for the City of New York, under former Mayor Michael Bloomberg. His accomplishments there included the design and implementation of a comprehensive performance-management system and the development of a program for integrating new employees, which was used citywide as a best practice template for the City of New York's 300,000 employees.
Mr. Cronk has served a number of community organizations and agencies, including as an Advisory Council member for Northern Spark, a member of the Minnesota Advisory Board of the Trust for Public Land, and a member of the Itasca Project Task Force on Socioeconomic Disparities in the Twin Cities. He was a recipient of the Minneapolis/St. Paul Business Journal's "40 Under 40" Award in 2013.
Mr. Cronk received his bachelor's degree with honors from the University of Wisconsin–Madison. He is a graduate of Harvard University's Senior Executives in State and Local Government Program and was a Public Affairs Fellow with the Coro New York Leadership Center.