Smart Trips Austin 2019 launches today in an area consisting of several East Austin neighborhoods, and this year brings major program changes. The travel training program will expand from three to six months and will cover a larger program area than in the past, encompassing over 24,000 households. In addition, this year's toolkit is digital, so residents do not have to live in the program area to apply.
The Smart Trips Austin program is designed to help Austinites find transportation solutions that work for their everyday trips. Whether it's riding the bus, carpooling, biking, walking, or trying one of Austin's ever-expanding mobility options, the goal of Smart Trips Austin is to help people get around—and avoid traffic in the process. Smart Trips Austin hosts free events like transit adventures, walking tours, and bike rides; offers transportation information and resources; and provides one-on-one personalized support.
Expanded program area – and toolkits for everyone
Smart Trips Austin is a partnership between the City of Austin and Capital Metro, and focuses on different neighborhoods within Austin each year. This year, all households in the blue area outlined in the map below will receive information on how to sign up for the program directly in their mailbox.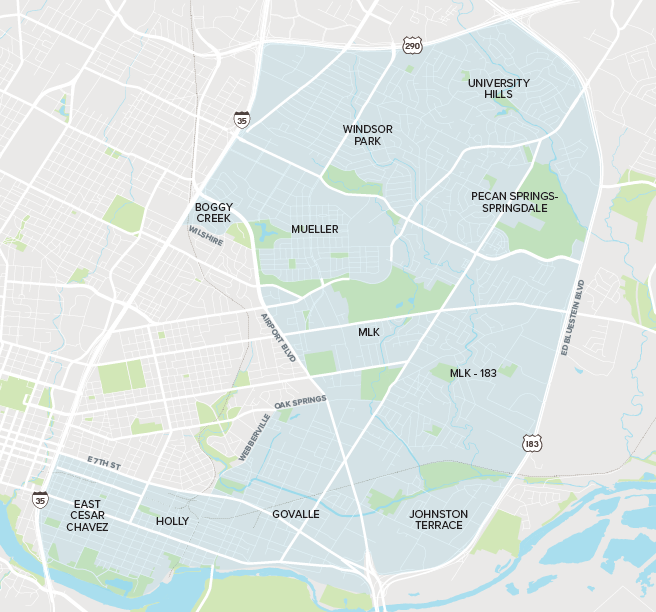 Any resident, however, can sign up for resources such as custom maps, single-day bus passes, and transportation tips for getting around town without a car. The E-Toolkit Order form is available online at SmartTripsAustin.org. Applicants are asked to answer a quick, five-minute survey about how they commute to apply for a toolkit. This survey helps the Smart Trips Austin team better serve the community and track the success of the program over time. E-Toolkits are now also available in Spanish.
Customized events and trainings
This year, the Smart Trips Austin team invites all Austinites to explore greater East Austin by using active transportation with Smart Trips Austin as their guide. The team will host walks, bike rides and trainings, scooter tours, and transit adventures for residents to try out new modes of transportation while having fun at the same time. All events will start in the communities in this year's program area.
Action planning and route planning
Beyond the toolkit full of resources and customized events, Smart Trips Ambassadors will now offer one-on-one support to residents who need extra assistance in trying new transportation options. These ambassadors were hired from the community to share their knowledge of the area and will call or meet with residents to help create an action plan. This includes where people want to go, how they want to get there, what they need to do to prepare, what challenges they might encounter, and what routes they can take. Residents will receive a customized action and route plan by email and an ambassador will follow up a few weeks later.
Smart Trips Austin 2019 launch event
The Smart Trips Austin 2019 kick-off event will be a transit adventure to the African American Book Festival. Attendees will be joined by Shake the Poet, who will recite live poetry on the bus ride to the George Washington Carver Library. All attendees will receive a free transit day pass that they can use for their return trip after the festival.
For a listing of future events visit the Smart Trips Austin event page.