City of Austin
FOR IMMEDIATE RELEASE
Release Date:
Contact: Austin-Travis County Joint Information System Email
---
More than 5,600 tests were administered
Austin, Texas – The COVID-19 testing of nursing homes staff and residents in Austin-Travis County has revealed that the positivity rate among staff is low and it is even lower among residents.
Testing results from Travis County nursing homes without ongoing COVID-19 transmission (see Table 1) show three new cases that were identified among residents for a positivity rate of .16 percent. At those same nursing homes, nine new cases were identified among staff members for a positivity rate of .31 percent.
On May 11, Gov. Greg Abbott ordered all nursing homes test all residents and staff by the end of the month.
With 33 facilities and more than 5,600 tests to administer, Austin Public Health (APH) relied on assistance from Austin-Travis County Emergency Medical Services, Austin Fire Department and the Emergency Medical Task Force team to complete testing.
The 33 facilities were tested by different groups. The breakdown is as follows:
Six facilities conducted COVID-19 testing on their own using their contracted labs
Eight facilities conducted the testing on their own, but their test kits were supplied by APH
19 facilities conducted the testing with APH both providing test kits and performing the testing
As of June 23, a total of 5,641 individuals (3,476 staff and 2,165 residents) were tested.
Results from nursing homes with ongoing COVID-19 transmission (see Table 2) shows one facility that had a 38 percent positivity rate among staff and residents and two other facilities with an approximately 11 percent positivity rate.
The testing shows that the screening of staff members may help detect asymptomatic COVID-19 infections. According to the test results, of the staff members who tested positive, many may not have direct patient care responsibilities.
Two months prior to the Governor's Order, APH began taking proactive measures to avoid spread in long-term care facilities, such as nursing homes, through a Health Authority Control Order. The Order mandated several specified actions including temperature-checking all employees, patients, visitors and volunteers prior to entry to facilities.
Additionally, the Nursing Home Task Force set-up an isolation facility for nursing home patients who test positive for COVID-19 but do not need hospitalization or who have been discharged.
APH and the Nursing Home Task Force will continue to provide support and PPE to facilities experiencing COVID-19 clusters.
Table 1. Data for the 27 Travis County Facilities without ongoing Transmission
Results for 180 tests are still pending. In Table 1, this is listed under the "Missing" column.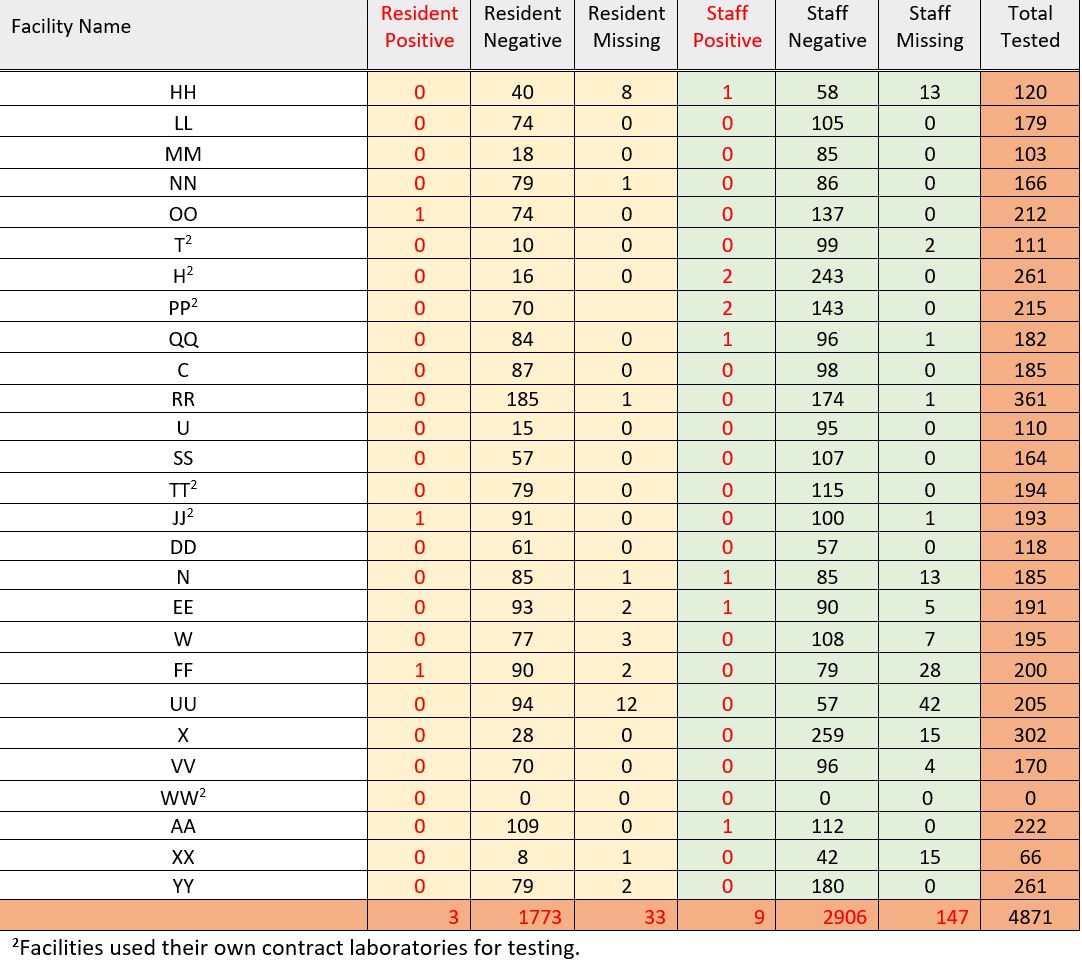 Table 2. Facilities with Ongoing COVID-19 Transmission and Testing Facilitated by Austin Public Health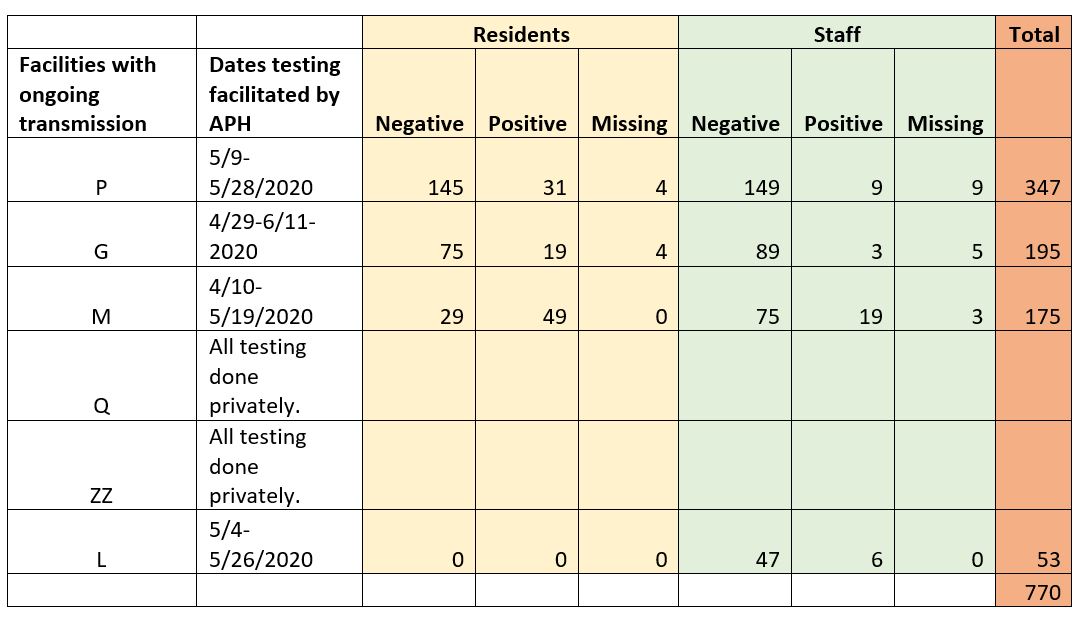 For more information and updates, visit www.AustinTexas.gov/COVID19.