You are here
City of Austin
---
FOR IMMEDIATE RELEASE
Release Date:
Jan. 06, 2017
Contact: Patricia Fraga 512-974-2969 Email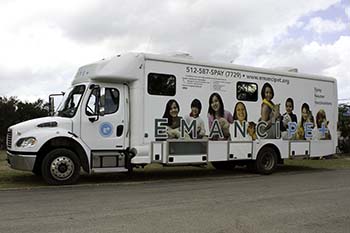 In an effort to better serve Austin families in the areas with the most need in pet welfare and care the City's Animal Services Office will be offering a new free spay/neuter clinic in the zip code of 78724.
The newest location will be Turner Roberts Recreation Center at 7201 Colony Loop.
These mobile winter clinics will be held January 13, February 2, February 17, March 2 and March 17.
It is recommended that owners bring pets to the clinic no later than 8 a.m. These services are first-come, first-serve, and some people begin showing up as early at 5:30 a.m. to get a spot in line.
Each year the City of Austin provides thousands of free spay/neuter surgeries and vaccines for pets in need through a close working relationship with the City's partner Emancipet.
These surgeries are provided at no cost to Travis County residents in Emancipet's mobile clinic at eight locations in Austin and Travis County.  View the schedule, here.
For more information about how to get a free spay/neuter surgery for your pet or other available pet wellness services, go to http://www.austintexas.gov/department/free-and-low-cost-services. Or call 512-978-0505 or 512-978-0504.
The Austin Animal Center is committed to providing the community with needed animal-related services to help pets and their families.
About Austin Animal Center
Austin Animal Center (AAC) is the largest no-kill municipal animal shelter in the United States, providing shelter to more than 18,000 animals each year and animal protection services to all of Austin and Travis County. AAC has numerous programs and partnerships designed to help pets in the shelter, in the community and in your home.
The Austin Animal Center, 7201 Levander Loop, is open from 11 a.m. to 7 p.m. daily.
For more information go to www.austinanimalcenter.org, call 3-1-1, or visit Facebook.com and search Austin Animal Center for daily pet updates.
The City also maintains the Town Lake Animal Center, 1156 W. Cesar Chavez St., as an overflow animal adoption location. It also is open daily from 11:30 a.m. to 5 p.m.
About Emancipet
Emancipet is a nonprofit on a mission to make high-quality spay/neuter and veterinary care affordable and accessible to all pet owners. We manage an expanding national network of high-quality, low-cost clinics; offer customized training and consulting programs to animal welfare organizations nationwide; and advocate for strategies and public policy that improve the lives of pets in underserved communities.
Since  1999, Emancipet has spayed or neutered nearly 250,000 dogs and cats and in 2016 will care for more than 100,000 pets.
For more information visit emancipet.org.
---