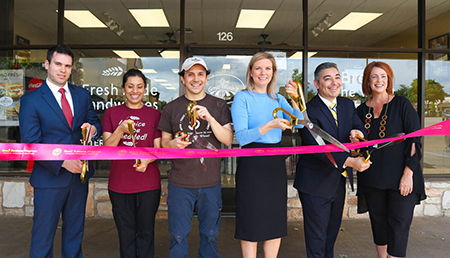 The City of Austin's Small Business Program, within the Economic Development Department, recently celebrated its most recent Family Business Loan recipient, the Great Harvest Bread Company, for their small business remodel completion and grand re-opening at 3201 Bee Caves Road.
Upon hearing the original Great Harvest Bread Company owners were retiring after 25 years in business, long-time customers and friends of the establishment, Juan Maldonado and Gisela Hernandez-Mendoza, decided to buy the small business and continue its legacy of serving great food within the community.
Wanting to reestablish the bakery, Juan and Gisela applied for an $82,000 Family Business Program loan to acquire the establishment, remodel the interior, and create a more versatile space.
"The City is proud to play its part in the expansion and overall success of a local business," said Interim Economic Development Director, Rebecca Giello. "Helping entrepreneurs secure capital allows them to continue to play a vital role in Austin's economy and overall effort to create more jobs."
Great Harvest Bread Company is committed to creating 3 full-time jobs to help grow Austin's employment base over the next 5 years.
The Family Business Loan Program is a public-private loan pool between the City of Austin's Economic Development Department and the U.S. Department of Housing and Urban Development that provides low-interest loans, utilizing no city funds.
The Family Business Loan Program's mission is to enhance the overall quality of life for Austin residents. The program requires borrowers to create one job for every $35,000 borrowed, and 51% of individuals hired must be deemed low to moderate income as defined by federal levels.
For more information on the Family Business Loan Program, call 512-978-2502 to speak with a Loan Program Advisor.
About the City of Austin Small Business Program
The Small Business Program, a division of the City of Austin's Economic Development Department, offers one-on-one business coaching plus entrepreneur training, incentives and resources to help small businesses prosper in a competitive business environment. For more information visit www.SmallBizAustin.org and connect on Facebook, Twitter, and YouTube.