Animal Center hosts free vaccination clinic Saturday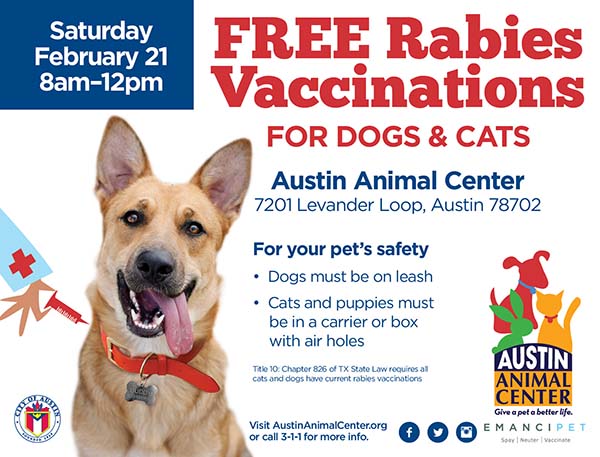 Since February 2011 the Austin Animal Center has sustained its status as the nation's largest "no-kill city," saving 90 percent or more of the homeless pets that enter the City's municipal shelter.
 
Almost 30,000 pets have been saved since the City became no-kill in 2011 and in January 2015 the City achieved a 95 percent live animal outcome rate, the highest since 2011.
The Center has also experienced a 14 percent decline in animal intake during the past 2 years and saw an increase in pet adoptions of 20 percent.
 
To commemorate the occasion and to keep Austin's pets healthy and safe, the Austin Animal Center will host a free rabies vaccination clinic from 8 a.m. to noon Saturday, Feb. 21, at the facility at 7201 Levander Loop.
 
"We are so very proud of what the Austin community has been able to achieve and sustain for the past four years, and we are committed to keep up the work that will result in continued success of saving our homeless pets," said Interim Chief Animal Services Officer Chris Noble.
 
The Animal Center continues to work on the Austin City Council-approved No Kill Implementation Plan which focuses on programs, services and partnerships to reduce animal intake and increase live animal outcomes.
 
The Animal Center's rescue partners, foster care network and hundreds of volunteers are a significant contributing factor to the City's success of maintaining the no-kill status. 
Austin Pets Alive and the Austin Humane Society, the top two rescue partners, save hundreds of animals from the shelter each month; in addition to the more than hundred other rescue partners in the Austin and surrounding area.
 
The foster volunteer program takes vulnerable and at-risk pets out of the shelter environment allowing kennel space for other animals that end up at the shelter.
 
View the Austin Animal Center monthly reports, here.
 
About the rabies vaccination clinic
Vaccinations are for dogs and cats 12 weeks of age and older.
Puppies and kittens younger than 12 weeks will be provided free identification tags and registered in the Animal Services database so that they can be reunited with their owners if lost.
 
Dogs must be on a leash and cats must be in carriers or secured in boxes with air holes. Puppies should be brought in carriers or crates. For more information the public can call 3-1-1.
 
State law requires an owner or handler of a dog or cat to get the pet inoculated  annually with the rabies vaccine.  Saturday's clinic is one of many sponsored throughout the year by the City of Austin Animal Services Office.
 
For more information about Animal Services and the Austin Animal Center visit www.austinanimalcenter.org or call 3-1-1.