You are here
City of Austin
---
FOR IMMEDIATE RELEASE
Release Date:
Jul. 05, 2017
Contact: Communications and Public Information Office 512-974-2220 Email
We need community's help to find a lost pet.
The Austin Animal Center, 7201 Levander Loop, needs the community's help to find a lost pet.
Parsley, a 1-year-old spayed female (pictured below), was at a recent microchipping event and, unfortunately, escaped.
The event was July 2 at the Veterans of Foreign Wars Post 8925 at 8706 FM 812 in southeast Austin. She was last seen running east on FM 812.
We believe Parsley is still in the immediate area. Animal Patrol Officers are canvassing the area and doing active patrols to locate Parsley, but have not been able to find her. We ask that if anyone sees Parsley, please call 3-1-1 immediately and tell us where she was seen. An Animal Protection Officer will follow up.
When a pet is lost, check the Animal Center's website for up-to-date listings of all stray animals who have entered the shelter. Tips to locate a lost pet include placing fliers in neighborhoods and posting information on social media outlets and on lost pet websites such as www.facebook.com/groups/austinlostandfoundpets/. 
For additional information, visit the www.austinanimalcenter.org; call (512) 978-0500 or 3-1-1 for animal issues after hours; or check Facebook for daily pet updates, https://www.facebook.com/AustinAnimalCenter/.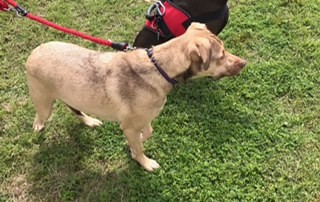 ---