You are here
City of Austin
---
FOR IMMEDIATE RELEASE
Release Date:
Aug. 17, 2017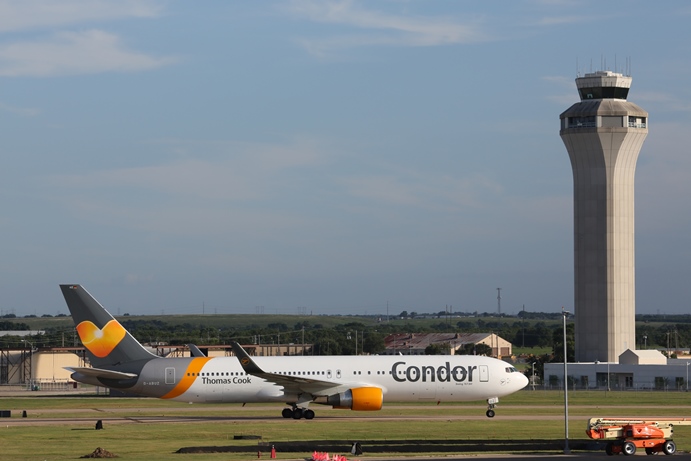 AUSTIN, Texas – Condor's 2018 schedule will see nonstop flights between Austin-Bergstrom International Airport (AUS) and Frankfurt, Germany (FRA) increase to three times a week. The 2018 schedule will begin on Monday, May 28, 2018, and run through Thursday, September 27, 2018.  The additional Wednesday flight will begin June 27, 2018.                        
All flights will be operated by Boeing 767-300ER aircraft with a three-class-configuration: Business Class / Premium Class / Economy Class. Tickets are available at www.condor.com.
Jens Boyd, Director Long Haul & Revenue Management Thomas Cook Group Airlines, said that the success of the route to date led to the decision to add a third flight. "We are happy to increase our frequency from Austin to Frankfurt with this additional flight and be able to offer our customers a smart choice for their transatlantic travels three times a week. Our Condor flights still are the only nonstop service from Austin to continental Europe and the bookings in the last year clearly showed that many more Texans love our service. With our partner carriers we provide seamless connections to cities like Prague, Venice, Berlin, Paris, Rome, Barcelona and in total more than hundred destinations in Europe."
Boyd continues by referencing the strong growth in North American markets, saying, "Condor's recent growth was particularly strong in the US and Canada as European destinations pop up on more and more Americans' travel lists. Our network consists of 16 destinations in North America today, such as Seattle, Pittsburgh, Vancouver and the new addition of Phoenix, which will be launched in summer 2018."
The airport of choice for Central Texas is Austin-Bergstrom International Airport (AUS). Fly Austin on new nonstop international destinations including Amsterdam, Netherlands (AMS) during SXSW 2018, www.delta.com, London Gatwick, United Kingdom (LGW) on Norwegian Air, www.norwegian.com/us, Punta Cana, Dominican Republic (PUJ) via Vacation Express, www.vacationexpress.com, Guadalajara, Mexico (GDL) on Volaris, www.volaris.com, and Mexico City, Mexico (MEX) on AeroMexico, www.aeromexico.com.  Welcome to Sun Country, a new carrier to Minneapolis – St. Paul International Airport (MSP) at www.suncountry.com. New domestic nonstop destinations include Steamboat Springs (HDN) from ViaAir, www.flyviaair.com, Columbus (CMH) and Ontario (ONT), announced by Frontier, www.flyfrontier.com, Kansas City (MCI) and Panama City (ECP) on Southwest, www.southwest.com, Raleigh-Durham (RDU) on Delta, www.delta.com, and Indianapolis (IND), Pittsburgh (PIT), St. Petersburg (PIE), Destin-Fort Walton Beach (VPS), and Cleveland (CLE) on Allegiant, www.allegiantair.com. Find all nonstop routes with the free interactive flight guide on www.abia.org. Connect with us on Twitter, @AUStinAirport, Facebook, www.facebook.com/abia and on Instagram, @AUSairport.
###
---