City of Austin
FOR IMMEDIATE RELEASE
Release Date:
Contact: Public Affairs Office, City of Austin Public Works 5129747111 Email
---
Austin Public Works and the North Shoal Creek Neighborhood Association (NSCNA) joined to celebrate a dedication of mosaics added to the Steck Avenue Bridge.
The mosaic dedication is the final piece of a multi-year project dating back to February 2017 when the project was approved by the City's Neighborhood Partnering Program (NPP). NSCNA partnered with NPP to share the costs for the construction of the North Shoal Creek Community Garden and landscaping on Rockwood Lane. As part of the project, NPP installed 750 feet of sidewalks in the neighborhood.
Neighbors of North Shoal Creek began working on the mosaics in 2018 under the guidance of award-winning mosaic artist, Dianne Sonnenberg. The project was organized and managed by NSCNA Beautification Chair Mary Jane Holland Wier and Amelia Cobb.
Based on community input, NSCNA President Kevin Wier created designs for each side of the bridge. He created 14 mesh panels which the volunteers ultimately adhered their mosaic tile to. The final mosaic installation and painting of the bridge was completed in November. 
A dedication ceremony was held on Saturday, Dec. 14 to congratulate the folks who contributed to the mosaics and to admire their work.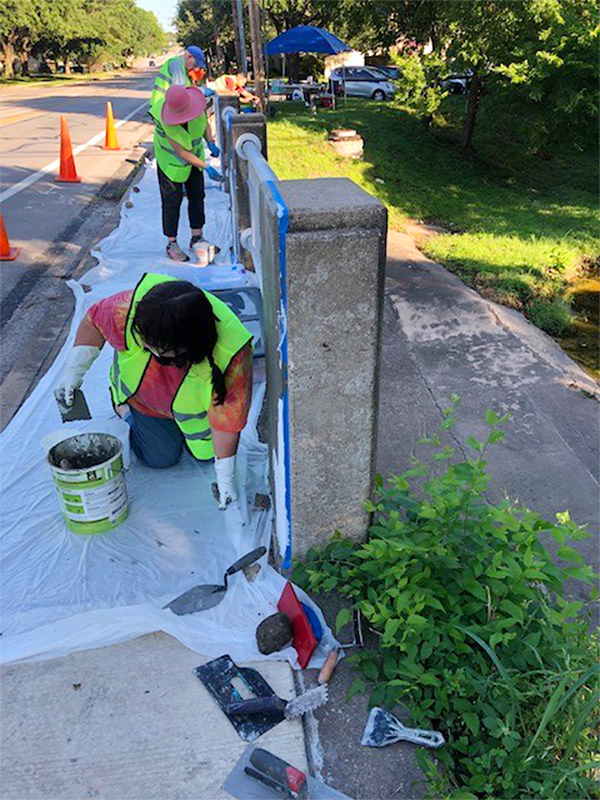 About Austin's Neighborhood Partnering Program: 
Austin Public Works' Neighborhood Partnering Program provides opportunities for community and neighborhood organizations to affect public improvements by sharing in the costs of those efforts with the City of Austin. To learn more, visit austintexas.gov/neighborhoodpartnering