City of Austin
FOR IMMEDIATE RELEASE
Release Date:

---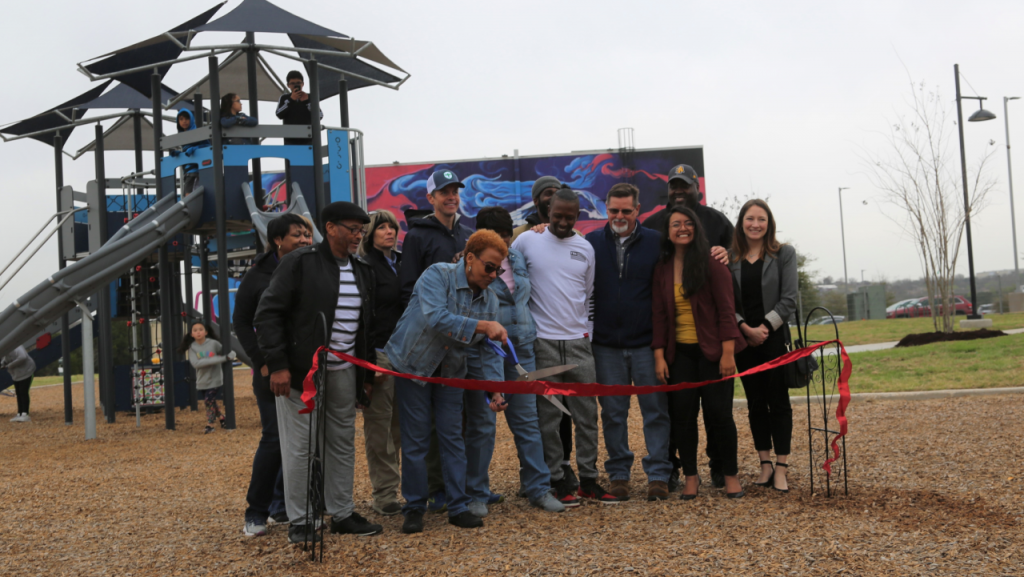 Today at 10 a.m., the community gathered for a Ribbon Cutting Ceremony to celebrate the building of new Colony Park District Park. The park development is consistent with recommendations identified in the Colony Park District Park Master Plan, approved by Council on December 11, 2014.
The nine-acre development overlooking downtown Austin includes a 10,000 square foot play area with elements of nature-based play, two picnic pavilions with large BBQ grills, a multi-purpose athletic field with LED lighting, a youth baseball field with covered dugouts and bleachers, a walking trail with three fitness stations, 3,500 feet of pedestrian walkways, and a 130 foot pedestrian bridge linking the Colony Park community to the park facilities and Overton Elementary School. Park visitors can also enjoy a 2,400 square foot mural, "Peace and Harmony," painted by Tyson Davis, artwork commissioned by the Art in Public Places Program from the Economic Development Department.
The project was supported through funding from the Texas Parks & Wildlife Department, St. David's Foundation Healthy Living Grant, Austin Parks Foundation, Dell Technologies Match Play, 2012 Prop. 14 Bond, 2018 Prop. C Bond, Parks and Recreation Department Community Improvement Projects and Parkland Dedication Fees, Austin Energy, Austin Resource Recovery, Austin Public Works' Safe Routes to School Program, Austin Economic Development Department. Several community groups also supported the project including, Colony Park, Lakeside, LBJ, and Agave neighborhood associations.
Before the ribbon cutting, from 8:30 to 10 a.m., there were volunteer opportunities for Austin Parks Foundation's It's My Park Day! And from 10:30 a.m. to noon there were fun activities for the entire family.