City of Austin
FOR IMMEDIATE RELEASE
Release Date:
Contact: Austin-Travis County Joint Information System 512-974-0699 Email
---
Without stringent social distancing, COVID-19 may overwhelm hospital capacities in the Austin Metropolitan area by this summer
Austin, Texas - Research conducted by Meyers Lab at The University of Texas at Austin (UT) points to a link between stringent social distancing and availability of hospital beds, ventilators and other health care resources.
The UT research, which was developed using a pandemic-planning tool, projects possible scenarios based on percentage reduction of social contacts. The model demonstrates a relationship between social distancing and cumulative COVID-19 cases, hospitalizations and deaths and that without stringent social distancing, COVID-19 may overwhelm hospital capacities in the Austin metropolitan area by this summer.
Austin-Travis County officials began implementing restrictions on mass gatherings beginning with local disaster declarations that were issued on March 6. Most recently, officials issued a Stay Home – Work Safe Order, which requires individuals to remain in place at home or place of residence, with exceptions for essential work and activities. When conducting an allowed activity, people must maintain at least 6 feet of social distancing.
"These are unprecedented times – and the decisions we all make now will help save lives, reduce potential overcrowding at our area hospitals, and lessen the strain on our public health workers," said Mayor Steve Adler. "I am calling on everyone in Austin to think of their loved ones - and those working hard each day to help reduce the spread of COVID-19 in our community – and carry on accordingly."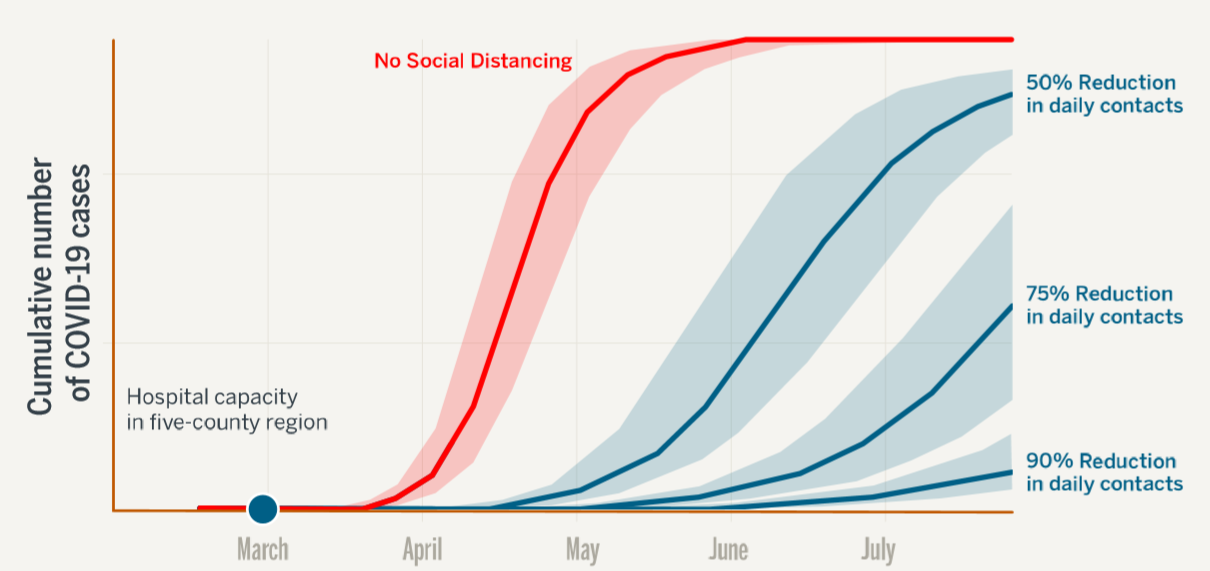 Chart courtesy of UT - Cumulative number of projected COVID-19 cases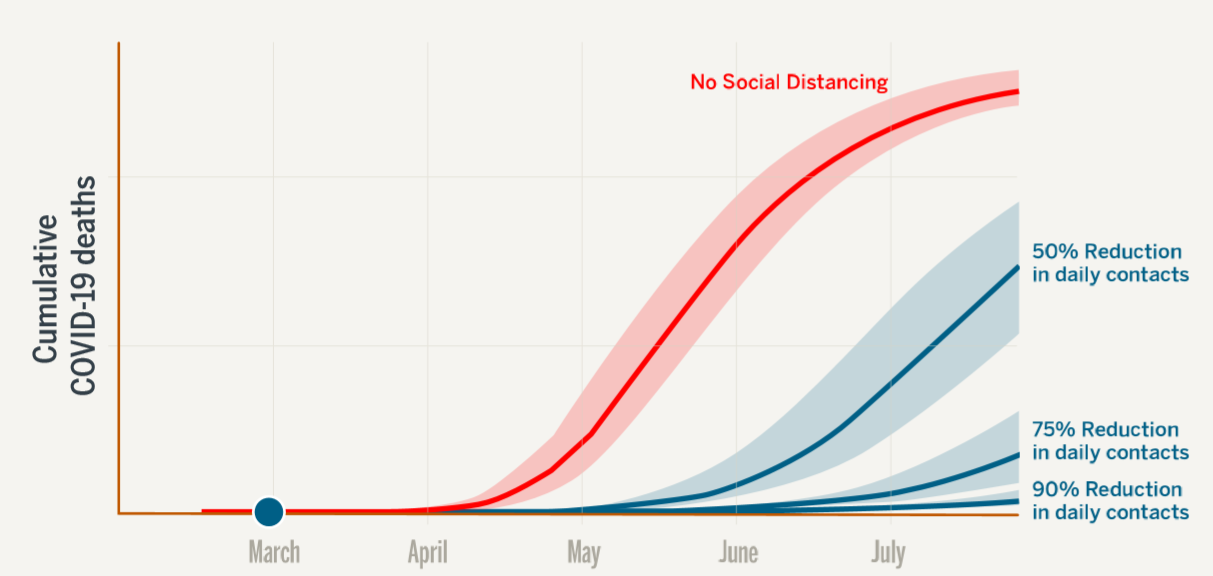 Chart courtesy of UT - Cumulative number of projected COVID-19 related deaths
"The health of the public is our top priority," said Dr. Mark Escott, Austin Interim Health Authority. "Our staff members are working 24/7 to protect all of our loved ones and ensure that our health systems can handle COVID-19 to properly care for everyone's family and friends. At this time, the hospitals are doing well but we need to work toward that 90% reduction through a community effort."
It is important to note that this preliminary data from UT is not set in stone and relies on many assumptions that proper behavioral change can affect. This data also mirrors similar models nationwide, and was a guiding force in issuing the Stay Home – Work Safe Order earlier this week.
"The data from the University of Texas is a sobering reminder that we must do more as a region to protect one another and prevent the spread of COVID-19," said Travis County Judge Sarah Eckhardt. "I know this is going to be a difficult time for our local economy and community, but the sacrifices we make now will save lives in the long run."
As of 7 p.m. March 25, Austin-Travis County was reporting 119 positive cases of COVID-19. If you are exhibiting COVID-19 symptoms (fever, cough, shortness of breath), avoid the risk of spread at clinics and hospitals by using telehealth virtual visits or calling your health provider. Your physician will determine if there is another plausible diagnosis with similar symptoms (i.e. influenza).
Individuals without insurance or established healthcare providers experiencing COVID-19 symptoms should call CommUnityCare at 512-978-8775. CommUnityCare will diagnose by phone and provide next steps. Austin Public Health continues to urge our community to work together to help us slow the spread of COVID-19 and avoid overwhelming our healthcare system.
For more information and updates, visit AustinTexas.gov/COVID19
###