City of Austin
FOR IMMEDIATE RELEASE
Release Date:
Contact: Public Affairs Office, City of Austin Public Works 512-974-7111 Email
---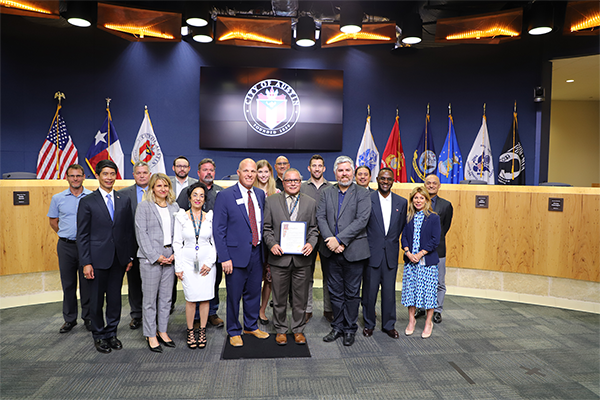 This past summer the City of Austin Public Works Department received a comprehensive review from the American Public Works Association (APWA).
APWA is an international educational and professional association of public agencies, private sector companies, and individuals dedicated to providing high quality public works goods and services. The organization helps agencies grow and improve the quality of life in hundreds of communities.
Achieving accreditation from APWA is a multi-year process that requires the formal verification of an agency's practices in the field of public works. An agency's policies and practices must align with recognized and established standards to achieve accreditation.  
There are only 143 accredited agencies throughout the United States and Canada. In 2015, Austin Public Works became one of 11 cities in Texas that have received accreditation.
In the four years since achieving this milestone, Austin Public Works set out to maintain this status with APWA through the process of reaccreditation.
Following the evaluation visit from APWA earlier this year, Austin Public Works was found to be in full compliance across all 85 practices under review. Additionally, eight practices were identified as "model practices" according to APWA. These eight practices are now considered nationally recognized standards to be displayed at the APWA headquarters as examples for other cities to follow. 
In early September, Austin Public Works was formally awarded reaccreditation at the APWA Public Works Expo in Seattle, Washington.
Most recently, the Austin City Council recognized the achievement with a proclamation during its meeting on Oct. 3.