City of Austin
FOR IMMEDIATE RELEASE
Release Date:
Contact: Public Affairs Office, Austin Public Works 512-974-7111 Email
---
City of Austin Public Works is informing residents about the rules for right of way (ROW) maintenance. 
The ROW includes roads, alleys, sidewalks, trails, and also the strip of land about ten feet from the back of the curb or road edge to the private property line.
Often misunderstood, upkeep of the ROW is a shared duty of both the City and our residents. The City maintains public trees in the ROW, while property owners are responsible for maintaining private trees, even when they grow into the ROW. Additionally, shrubs/hedges planted in the ROW or existing on private property adjacent to the ROW must be maintained.
We ask residents to follow City code by pruning trees and removing debris. This will help improve the safety and accessibility of our streets and sidewalks. See § 10-5-21 of the City Code for more information about these standards.
It is estimated that the percentage of functional sidewalks in Austin could be doubled if residents addressed these barriers.
In addition to increasing accessibility for all pedestrians, these standards provide safety for motorists and bikers who may not otherwise see other drivers, signs and obstacles due to overgrown vegetation. 
Guidelines for pruning vegetation include:
Clear from the edge of the sidewalk and at least 8 feet above
Clear from the edge of streets and at least 14 feet above
Overgrown vegetation and debris that are obstructing public right of ways can be reported by contacting 3-1-1. 
Learn more about the standards for vegetative maintenance at austintexas.gov/cleartherow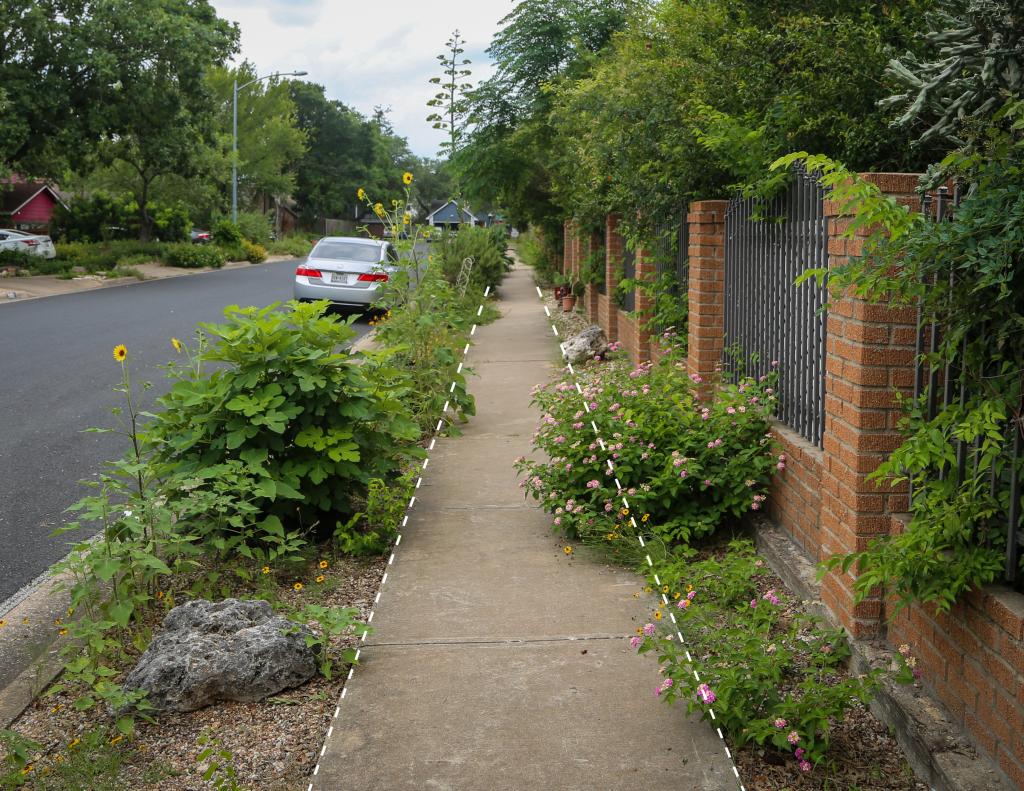 A well-landscaped area can be a right of way violation when it obstructs a path. 
For more photo options, see the Austin Public Works Flickr
About Austin Public Works Street and Bridge Operations:
Public Works Street and Bridge Operations manages and maintains public right-of-way infrastructure including streets, bridges, sidewalks, guardrails, trees and vegetation. Our five divisions patch potholes, resurface streets, repair utility cuts, maintain the City's medians, perform right-of-way maintenance on trees, and respond after storms. 
###