City of Austin
FOR IMMEDIATE RELEASE
Release Date:
Contact: Public Affairs Office, City of Austin Public Works 5129747111 Email
---
The Austin Bergstrom International Airport (AUS) terminal expansion project received LEED Gold certification this February for its environmental quality and green building design. The expansion has officially been open and operational for one year.
Leadership in Energy and Environmental Design (LEED) is a green building certification system administered through the U.S. Green Building Council. It provides a framework for building operators to identify and implement practical and measurable green building design, construction, operations, and maintenance solutions.
Austin Public Works managed many aspects of the construction of the new terminal and registered to begin the LEED certification process in 2015.
The 9-Gate terminal expansion was completed in Feb. 2019 and was a joint effort from both the City of Austin Public Works and Aviation departments, Hensel Phelps Construction Co., and Gensler architects.
The expansion added nine new gates to the Barbara Jordan Terminal, which increased the total number of gates to 34. This included increasing international flight gates from two to six, allowing for more international nonstop service to AUS. In addition, the project gives the airport almost 90,000 additional square feet of concourse space and over 50,000 square feet of apron-level space.
"The terminal expansion was a collaborative effort between both the City's Public Works and Aviation departments," said Assistant City Manager Gina Fiandaca. "Building safe, sustainable and reliable infrastructure are some of our core values, and we are proud of those who worked to achieve this level of certification with LEED."
Sustainable features that led the project to achieve Gold certification with LEED include the installation of indoor water saving devices and use of daylight to reduce reliance on electricity for lighting. Furthermore, the terminal uses an automatic shade system that is programmed to function with the rising and setting of the sun. Energy analysis predicts energy cost savings of 27% beyond a code compliant building of this type.
Throughout the construction process, the project earned credit for its waste management protocols including the use of recycled content, landfill diversion and the manufacturing and extracting of materials within 500 miles of the project site. A commissioning agent was hired to ensure that all mechanical equipment in the terminal is functioning in its optimum design standards.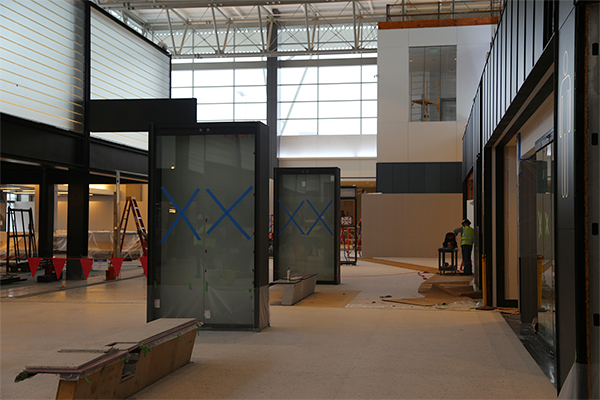 Construction inside the terminal late Dec. 2018

The completed and operational terminal expansion in Feb. 2019

Terminal expansion with added concessions in 2019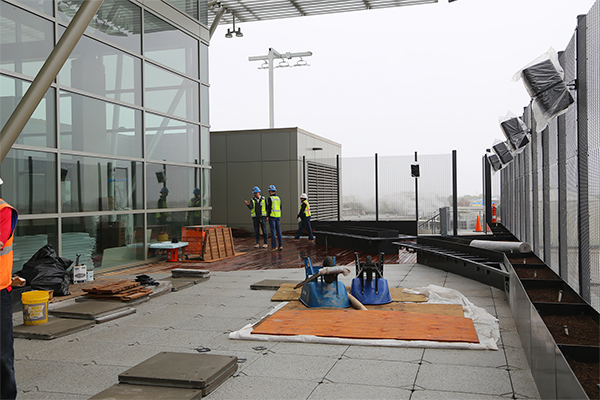 Outdoor lounge area at the terminal late Dec. 2018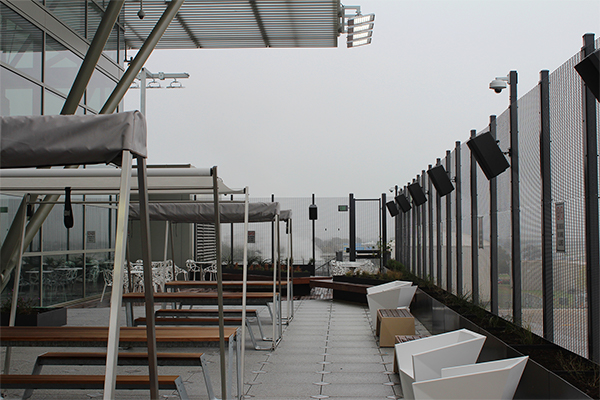 Outdoor lounge area at the terminal expansion in Feb. 2019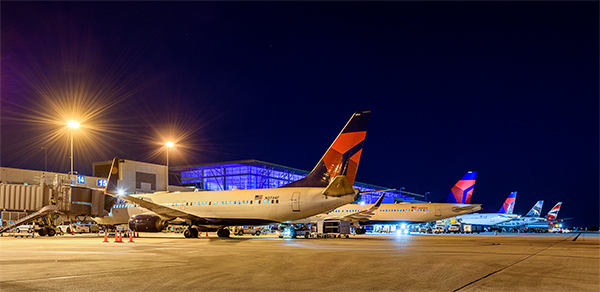 Airport apron with aircraft outside terminal expansion
See these past articles from AUS for more information on the 9-Gate Expansion: