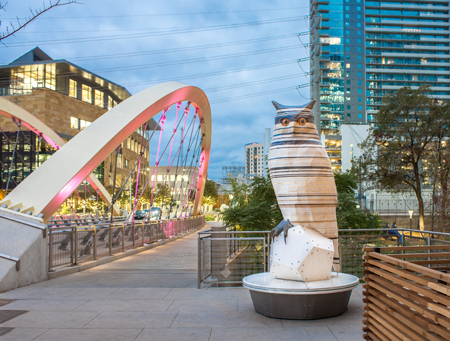 Photo by Philip Rogers
AUSTIN, TX - The City of Austin Economic Development Department's Art in Public Places Program recently installed interactive public art sculptures in downtown Austin. Located near the entrance to the Proper Hotel at 600 2nd Street, the artwork, titled Kempelen's Owls, is creating conversation and social media buzz with downtown residents and visitors alike.
Kempelen's Owls was inspired by the Texas native Great Horned Owl. The sculptures were created from 3D scans of a local owl from the collection at the University of Texas' Texas Memorial Museum. The two owl sculptures stand ten feet tall and are constructed of layered metal and composite material. They are perched atop a 12-sided geometric shape, silently observing their surroundings.  
Artist team New American Public Art set the owls over benches that feature an interactive secret for those who are curious—a quick reach and swivel under each bench will awaken the rotating head of the owl above. The interactive mechanism, seemingly allowing the owls to turn their heads at will, was inspired by 18th century robotics builder, Wolfgang Von Kempelen, who created an automatron that turned out to be a hoax!
Kempelen's Owls will be the City's first fully open-sourced permanent public artwork, with all the artists' concepts, designs, contracts and methods made available to the public under a Creative Commons license.
The Art in Public Places Program sought to commission an artist to design artwork for the four-block radius of the Green Water Treatment Plant within the City's Seaholm Eco-District. In 2012, the City executed a Master Development agreement with TC Green Master Developer, LLC (Trammell Crow Company) for the redevelopment of the property. The master agreement included funding for this Austin Art in Public Places commissioned installation which is intended to create a sense of place for the public and offer opportunities for discovery by people of all ages. The Proper Hotel will be open for the public beginning in early December and will host a celebration and artwork dedication in early 2020.  
For additional information on programs that integrate art and artists into economic development, visit www.AustinCreates.com.
###
About the City of Austin Economic Development Department
The City of Austin Economic Development Department influences revenue generation through its programs and investments in order to secure economic mobility for our residents and promote a competitive, sustainable, vibrant and equitable economy for all. For more information, visit www.austintexas.gov/edd and follow on Twitter.