City of Austin
FOR IMMEDIATE RELEASE
Release Date:

---
To inform passengers on how to reduce their environmental impact in air travel and in daily life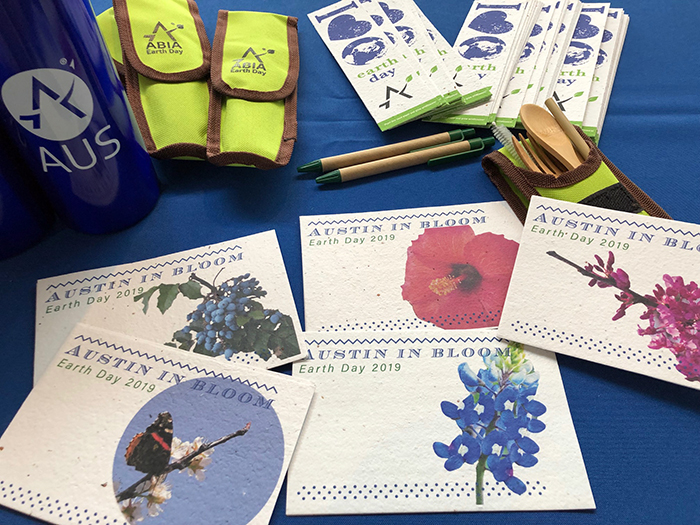 Postcards and bookmarks embedded with wildflower seeds are part of the Earth Day events at the Austin airport.
AUSTIN, Texas – To inform passengers on how to reduce their environmental impact in air travel and in daily life, the Austin-Bergstrom International Airport and 15 other partners held the second annual Earth Day event, on Monday, April 22.
Participating groups in the airport's Earth Day event included the Aviation Environmental Division, Watershed Protection Department, Austin Parks and Recreation Department, Austin Energy, Alaskan Airlines and Jet Blue Airlines. Airport concessionaires Delaware North and Paradies Lagardère, TOGOCO, Del Valle High School Art Department, Texas Disposal Systems, Scott Airport Parking – Park&Zoom and Bark&Zoom, Vino Volo and the Hilton Austin Airport Hotel also participated. These groups had information booths and activities set up throughout the Barbara Jordan Terminal from 9 a.m. to 3 p.m.
Other activities included:
Selfie Station - An area to take a picture with an "I Love AUS" backdrop
Plinko prize drop game by the Guest Services Division
Giveaways – an opportunity to win environmental friendly gifts such as post cards, bookmarks, bamboo cutlery, and more.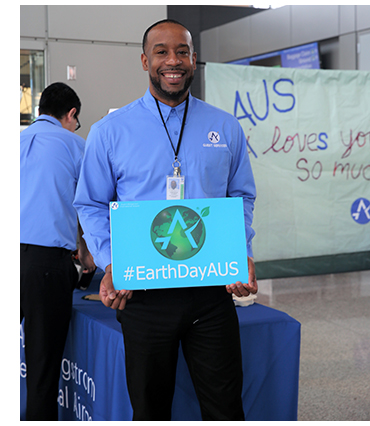 The Del Valle High School Art Department provided images from student's artwork that were used on seeded postcards. The seeds are mixed wildflowers and are plantable postcards that contain fun Earth Day factoids.
Along with celebrating Earth Day, the Austin airport is committed to sustainability and environmentally friendly practices. Recently the Austin airport kicked off a new waste trial in the East Food Court implementing compostable collections and adding compacting waste containers for recycling and trash. The Austin airport has been working closely with concessionaires on improving the sustainability programs and with their help, approximately 90 percent of the East Food Court's products are compostable, from cups to cutlery. Also in 2018, the Austin airport diverted over 29 percent of discarded or unused items from going to the landfill. Rather, items are recycled, composted, or repurposed.
The airport has several programs in place that aim to improve its environmental footprint. The Food Rescue Program, in 2018 has collected almost 14,000 lbs. of fresh food that was delivered to individuals and families in need via Keep Austin Fed. 
This kept unsold, packaged food from being wasted.  In addition, with the "Pour it Out" receptacles at checkpoint entries, passengers can pour out their drinks, which are not allowed through security.  They can then place the containers in the recycling or trash, or even take the empty containers through security to refill at free hydration stations along the concourse. This greatly reduces landfill waste and recyclable contamination as well.
The airport of choice for Central Texas is Austin-Bergstrom International Airport (AUS). New nonstop international flights include Calgary, Canada (YYC) on WestJet www.westjet.com; Frankfurt, Germany (FRA) on Lufthansa www.lufthansa.com; London Gatwick, United Kingdom (LGW) on Norwegian Air, www.norwegian.com/us; and Mexico City, Mexico (MEX) on AeroMexico, www.aeromexico.com. Austin also welcomes new carrier Spirit Airlines,  www.spirit.com.  Find all nonstop routes with the free interactive flight guide on www.abia.org. Connect with us on Twitter @AUStinAirport, Facebook,  www.facebook.com/abia and on Instagram @AUSairport.