City of Austin
FOR IMMEDIATE RELEASE
Release Date:

---
On Barbara Jordan's birthday, the Austin airport opened a 9-gate expansion to the terminal that bares name.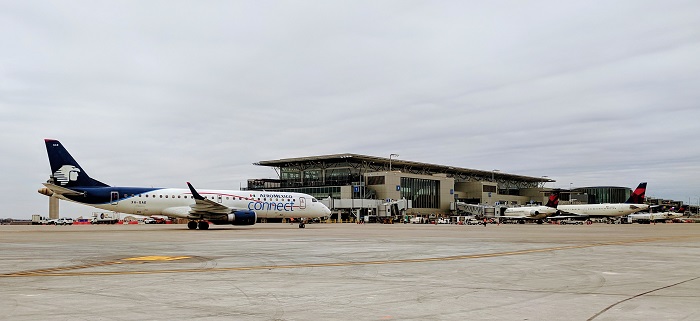 First flight to depart the 9-gate expansion was a Delta 5:40 a.m. departure from Austin to Atlanta. Above is the first international flight to arrive, a AeroMexico nonstop from Mexico City to Austin.
AUSTIN, Texas – The Austin-Bergstrom International Airport, in seeking to elevate the passenger experience, opened Phase I of the new 9-gate expansion. The expansion became operational on Barbara Jordan's birthday, Feb. 21 with a Delta to Atlanta flight at 5:40 a.m.
The terminal and apron expansion is a $350 million project. The project includes: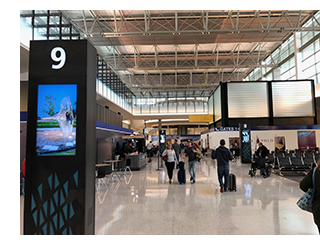 Adding nine new gates to the terminal, which increases the total number of gates to 34. This includes increasing international flight gates from two to six.
The terminal expansion project is nearly 175,000 square feet and includes:

88,359 square feet of concourse space
52,282 square feet of apron level space for baggage makeup conveyors, additional inbound baggage systems, airline operations space, airport support space, and other related ancillary facilities
28,205 square feet of mezzanine and platform level space
5,770 square feet of outdoor east terrace.

Expanding the paved aircraft area around the terminal by 48 acres to better accommodate larger and more aircraft and increased overnight aircraft parking at Austin's airport.
Designed to meet LEED Silver certification for overall energy and environmental sustainability.
The original Barbara Jordan Terminal was designed to serve 11 million passengers annually. In 2018, the airport served 15.8 million annual passengers.
175,000 square feet of the new terminal, gate area, and wider concourse space will be added. The terminal, if stood on end it would be taller than the Frost Tower in downtown Austin.
6,000 tons of steel was used in the construction of the 9-gate expansion.
Twenty consulting firms were engaged with a five-person, all women on-site project delivery team.
The Barbara Jordan Terminal
The terminal at the Austin-Bergstrom is named after Barbara Jordan. As an elected official Barbara Jordan accomplished many firsts. She was the first African American to serve in the Texas Senate since Reconstruction (1966-72), the first African American woman elected to the U.S.. Congress from the South (1972-78) and the first woman to deliver the keynote address at a national party convention (Democratic Convention 1976, and again in 1992).
Her riveting Watergate testimony in 1974 inspired America's attention to the strength and foundation of the Constitution of the United States of America. Many Austinites remember her fondly as an educator at The University of Texas at Austin/LBJ School of Public Affairs (1979-96) and, respectfully as Governor Ann Richards' counsel on ethics. Many also remember well the way she captivated listeners with her powerful voice, oratorical skills, and her ability to clarify complex moral issues of the day.
The first life-sized statue of the late Barbara Jordan resides in the Austin-Bergstrom International Airport. Created by California artist Bruce Wolfe, the bronze sculpture depicts Jordan seated, in deep thought, with her finger tips pressed together; her glasses and a book placed in her lap.
The airport of choice for Central Texas is Austin-Bergstrom International Airport (AUS). New nonstop international flights include Calgary, Canada (YYC) on WestJet www.westjet.com; Frankfurt, Germany (FRA) on Lufthansa www.lufthansa.com; London Gatwick, United Kingdom (LGW) on Norwegian Air, www.norwegian.com/us; and Mexico City, Mexico (MEX) on AeroMexico, www.aeromexico.com. Austin also welcomes new carrier Spirit Airlines, www.spirit.com.  Find all nonstop routes with the free interactive flight guide on www.abia.org. Connect with us on Twitter, @AUStinAirport, Facebook, www.facebook.com/abia and on Instagram, @AUSairport.