You are here
City of Austin
---
FOR IMMEDIATE RELEASE
Release Date:
Jul. 17, 2017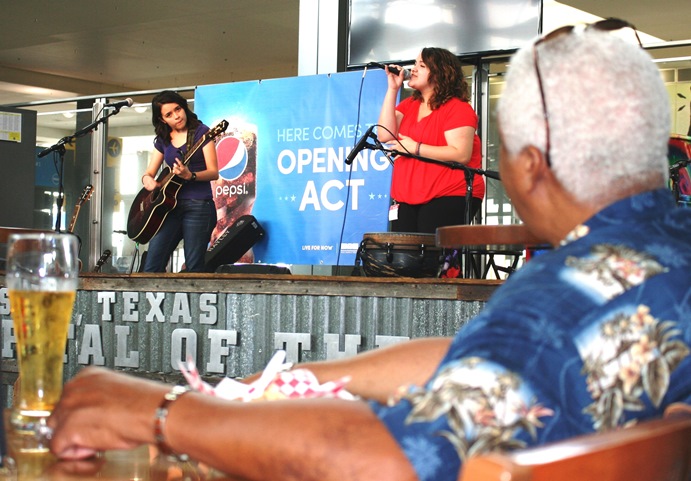 Returning duo Annie & Kate performed at the Asleep at the Wheel stage in 2016.
AUSTIN, Texas – The 11th annual Kid Band Week will be held from July 17 – 21, 2017 (Monday – Friday) at the Austin airport and will feature a diverse group of Austin-area musicians, all ranging in age from 10 to 18.
Kid Band Week has become an exciting, summer tradition at Austin-Bergstrom International Airport.  All performances are scheduled from 3:30 to 5:30 p.m. at the Asleep at the Wheel Stage, located near Gate 10.
Kid Band Week Performances:
About the bands:
Childbloom Guitar Ensemble began in 1980 as a national program to introduce youth to music through the guitar. Their goal is to provide kids with the skill and literacy necessary to pursue any musical direction they desire. For more on Childbloom, visit http://www.childbloom.com/.
Annie & Kate are fraternal twin musicians from Round Rock, Texas. The sisters are singers, songwriters and play the guitar, piano, bass, drums, percussion, ukulele, flute, clarinet, and harmonica. This is their fifth Kid Band Week appearance. For more information on Annie & Kate, visit http://www.annieandkate.com.
Band Aid School of Music is a well-known rock band school in Texas. Since 1990, Band Aid School of Music founded by James Mays has taught students of all ages and developed a philosophy of education that engages students, parents and their communities. The school will feature bands "Professor Rafe and the Fables" and "Drunk Uncle," as well as solo performer Caroline Parker. For more on the Band Aid School of Music, visit http://www.bandaidschoolofmusic.com/.
Midnight Butterfly is an all-girl rock band from Round Rock and Austin. Olivia, Scarlett, Hannah, Isadora, and Kaiya make up the group as the vocalist, guitarist, bassist, keyboard player and drummer, respectively. The band was voted the second-best performing band under 18 by the Austin Music Awards. For more on Midnight Butterfly, visit www.midnightbutterflyband.com.
Austin Young Jazz Warriors will feature students from Lamar Middle School playing jazz standards. The group will be directed by acclaimed trombonist and educator Andre Hayward.
The airport of choice for Central Texas is Austin-Bergstrom International Airport (AUS). Fly Austin on new nonstop international destinations including London Gatwick, United Kingdom (LGW) on Norwegian Air, www.norwegian.com/us, Punta Cana, Dominican Republic (PUJ) via Vacation Express, www.vacationexpress.com, Guadalajara, Mexico (GDL) on Volaris, www.volaris.com, Mexico City, Mexico (MEX) on AeroMexico, www.aeromexico.com, Welcome to Sun Country, a new carrier to Minneapolis – St. Paul International Airport (MSP) at www.suncountry.com.  Welcome other new domestic nonstops: Kansas City (MCI) and Panama City (ECP) on Southwest, www.southwest.com, Raleigh-Durham (RDU) on Delta, www.delta.com, and Indianapolis (IND), Pittsburgh (PIT), St. Petersburg (PIE), Destin-Fort Walton Beach (VPS), and Cleveland (CLE) on Allegiant, www.allegiantair.com. Find all nonstop routes with the free interactive flight guide on www.abia.org. Connect with us on Twitter, @AUStinAirport, Facebook, www.facebook.com/abia and on Instagram, @AUSairport.
###
---