The ideal habitats for the Jollyville Plateau Salamander are springs, spring-fed streams, and caves with flowing water.  Most of the known populations are surface dwelling, or epigean, although this can be somewhat of a misleading classification because the salamanders will retreat to underground refugia during dry periods when the springs no longer flow at the surface.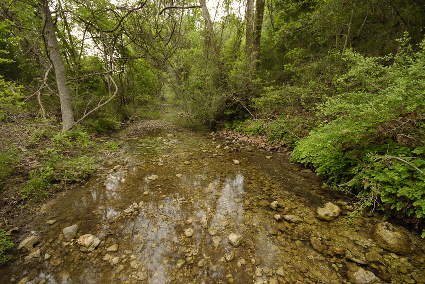 There also are at least a half dozen caves in the Buttercup Cave system inhabited by salamanders.  These salamanders are called troglobites because they spend their entire lives underground (although many may be able to survive on the surface, in which case they would be considered troglophiles).  It is unclear whether all cave populations are more closely related to each other than to surface populations, but it is clear that there is variation in morphological appearance among the different populations of cave-dwelling E. tonkawae.  Researchers currently are examining the population genetics of this species, which will give more insight into the relationships among the cave and surface populations.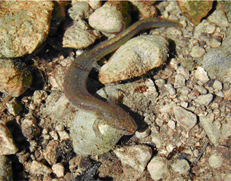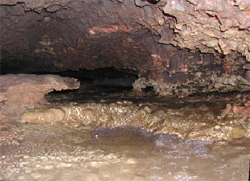 This is a picture of the cross-section of a stream bed when there is no surface flow and the water table has retreated to a sub-surface level.  The salamanders retreat with the water level and live under the stream bed until the stream begins to flow again.  Down there, they can move between the interstitial spaces created by larger stones below the surface of the stream, as shown in this picture.