Algae blooms received a lot of press the summer of 2014 thanks to the massive cyanobacterial blooms in Lake Erie, one of which resulted in the city of Toledo having to stop providing water to the city. In Lake Austin, where the city of Austin derives its drinking water, algae blooms and associated taste and odor problems are closely monitored. The summer of 2014 we saw a larger than normal diatom algae bloom (Fig. 1). However, diatoms are typically harmless and generally do not adversely impact drinking water supply. As with previous years (Fig. 2), in late summer and through the fall we saw the biomass of cyanobacteria increase in lower Lake Austin (Fig. 1). As of January 2015, scientists are analyzing the species composition of the cyanobacteria assemblage to determine if organisms capable of producing toxins are present. But, the bloom was nowhere near the magnitude experienced by the coastal communities of Lake Erie in 2014, and was less than 60% as large as the bloom experienced in the Lake Austin Reservoir in 2013 (Fig. 2). Of interest though was the fact that the cyanobacterial bloom lasted longer in the summer and fall of 2014 than in previous years.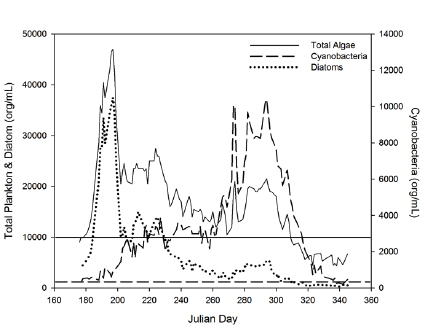 Figure 1. Total algal and Diatom biomass (cells/mL; left axis) and Cyanobacterial biomass (cells/mL; right axis) for the period June 28 through January 11th, 2014 (more data will be added). Austin Water Utility recognizes and monitors a phytoplankton bloom when the total cell count is > 10,000 org/mL (solid horizontal line) and a cyanobacterial bloom is triggered at a count > 300 org/mL (dashed horizontal line).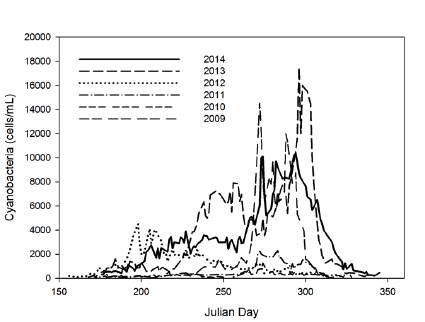 Figure 2. Algal biomass (cells/mL) based on total cell counts (A); diatoms (B); and cyanobacteria (C) for the summers from 2009 to 2014.
As Central Texas emerged from drought conditions late in 2015 into 2016, the 2017 summer has seen a return of large discharges through the Highland Lakes similar to the pre-drought period (i.e., pre-2009). The Highland Lakes were nearly at 100% capacity late in 2015 due to major rain events. Through most of the mid-to-late summer period, discharges were generally low, enabling a long duration (~4 month), large magnitude (~35,000 org/mL), cyanobacteria bloom to develop (Fig 3).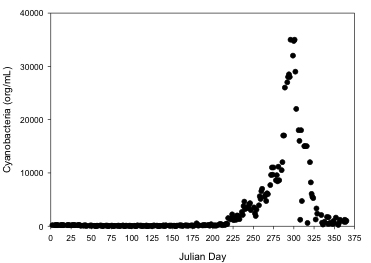 With the Highland Lakes full into 2016, large hydrological pulses to meet downriver agriculture demands occurred throughout the spring and early summer, influencing cyanobacteria bloom dynamics. A large bloom developed earlier than normal as discharges through Lake Austin declined, but the bloom rapidly peaked and crashed, and the total number of bloom days was only 106 days (Fig.4)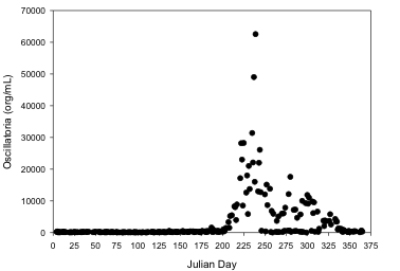 In 2017, we have seen large discharges from Lake Travis for most of the summer, until Hurricane Harvey moved into the region. As such, in Lake Austin, as of early November (typically past the peak date of cyanobacteria bloom conditions), less than 30 days have been in a bloom condition, consistent with predictions based on persistent large early- and mid- summer discharges from Lake Travis through Lake Austin.