- - to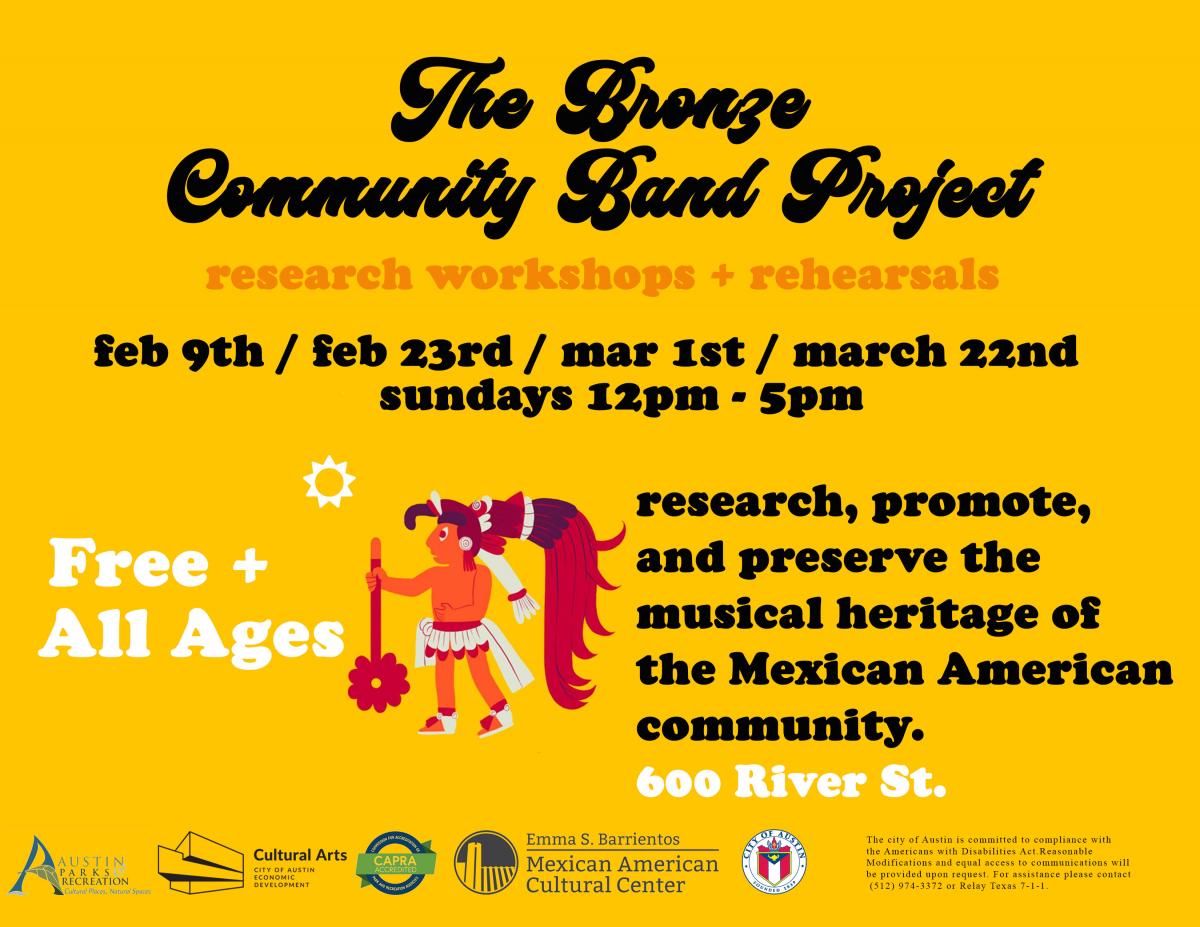 The Bronze Band Community Band Project: Research, Workshops, and Rhearsals
Select Sundays from 12pm-5pm 
February 9th + 23rd, March 1st + 22nd
For more information visit the Facebook Event!
The Bronze Community Band Project, a collaborator with Austin's Emma S. Barrientos Mexican American Cultural Center, continues their work in 2020. The last 2 years, the Bronze Community Band Project offered a program to research, promote and preserve the bi-musical heritage of the Mexican American community. The program, free and open to the public, involves the research, preservation and presentation of the performance art of this music. This includes archiving the works as part of the artistic growth and participation of the Mexican American community in the City of Austin. 
The research to secure the historical information on Austin musicians and organized rehearsals detailing protocols for music performance opportunities continue on Sunday, February 9, 2020 from 12 noon to 5 pm. This is open to the pubic and no fees attend.
Workshop: Introduction to Preservation of the Culture is a 2 - hour session for individuals interested in preserving their history in Austin, focusing on and not limited to musicians who may not yet have established their archives. Guest speaker, Marina Islas, Latinx Community Archivist from the Austin History Center, will guide the attendees on what is needed to be collected for preservation of the individual's history and the need for preservation, as there is much that remains to be documented about the Mexican American community. Additional guest speakers to be announced.
 From 2-5pm, The Bronze Community Band Project will continue with the Beginning Music for an hour, then the rehearsals continue.
Emma S. Barrientos Mexican American Cultural Center, Music Room
600 River Street
Austin , TX 78701
United States