The goal of this project is to reduce the risk of flooding for houses and yards near Meredith Street in the Tarrytown neighborhood with an updated storm drain system. The project will also help improve water quality and erosion issues.
The existing storm drain system, built in 1952, is undersized and discharges to an underground cave. The neighborhood has experienced flooding multiple times.
Austin Caverns
Discharging stormwater to the cave is regulated by the EPA and TCEQ. It is discouraged for a number of reasons:
Erosion and Safety: The stormwater is causing erosion within the cave, which could lead to portions of the cave ceiling collapsing as has happened in the past.  It is reassuring that about 40 feet of rock provide a buffer between the top of the cave and the houses built over it. Reducing the stormwater entering the cave will reduce the rate of erosion and the risk of subsidence or settlement over the cave.
Water Quality: Stormwater tends to be polluted with bacteria, fertilizers, pesticides, sediment and petroleum products. These pollutants are entering the cave system and potentially contaminating springs near Lake Austin. Any project will need to improve the water quality of the stormwater entering the cave by filtering out some of the pollutants.
Flooding: The drainage capacity of the cave is not known, but is not sufficient to prevent flooding of houses nearby. Several properties have experienced repeated flooding.
Proposed Solution
The preliminary engineering phase is complete. Watershed Protection is proposing to install new storm drain pipes and expand existing pipes on the following streets:
Meredith Street, between 3605/3607 and Rockmoor Avenue
Leberman Lane, near the intersection with Meredith Street
Rockmoor Avenue, between Meredith Street and Cherry Lane
Cherry Lane, between Rockmoor Avenue and the bend at Scenic Drive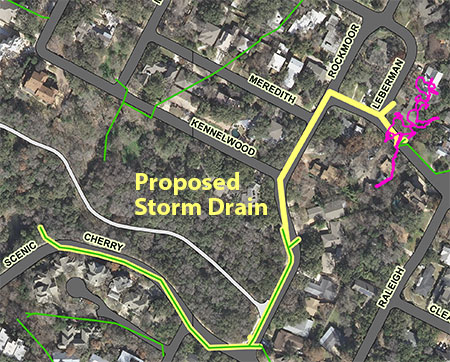 The proposed storm drain system is in yellow on the map above. Green lines represent the existing storm drain pipes, and the pink shows the cave system. Click on the map to download a larger, printable pdf.
Project Timeframe
Our capital improvement projects take many years from start to finish. The process typically includes the following phases:
Preliminary Engineering – when a solution is identified and costs are estimated.
Design – when the details are worked out and construction plans drawn up.
Bidding and Permitting – when a contractor is hired and all permits are acquired.
Construction – when the project is built.
This project is in the Bidding and Permitting phase. Construction is expected to begin in spring 2021.
Documents
Subscribe
Please email Stephanie Lott to receive project updates.
Contacts