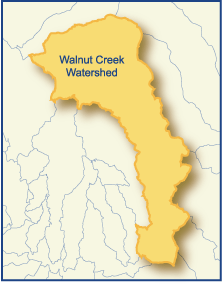 Walnut Creek is our biggest central Austin watershed, at almost 36,000 acres, originating near Mopac and Wells Branch and entering the Colorado River about five miles downstream of Longhorn Dam at Lady Bird Lake. This watershed originates from Northern Edwards Aquifer groundwater, flowing over limestone and crosses into the Blackland Prairie ecoregion, with deeper clay soils and hardwood bottomland forests. Little Walnut Creek and Buttermilk Branch flow into Walnut towards its mouth. It has year round flow and generally high ecological health, although it is under intense development pressure currently, and water quality may suffer over the next few years.
Walnut Creek Metro Park
Northstar Greenbelt
Yett Creek Park
Balcones District Park
Austin's Colony Park
What's happening at the Northstar Greenbelt, a tributary of Walnut Creek?
Through a joint effort between Parks and Recreation (PARD) and Watershed Protection departments (WPD), Northstar Greenbelt has been selected as one of several locations for a new "Grow Zone" initiative.
The new initiative has established a "Grow Zone" along both banks of the creek for approximately 25 feet on either side to allow for natural plants to re-grow in the area. Increasing the quantity and quality of vegetation will help improve the overall health of the creek. In addition to removing mowing and other disturbances from this "riparian zone", neighborhood volunteers collaborating with Keep Austin Beautiful, the Austin Parks Foundation and Watershed Protection Department staff have seeded wildflowers and native grasses, planted trees, and cleaned up nuisance and invasive species during workdays in the fall of 2012 (see photos below).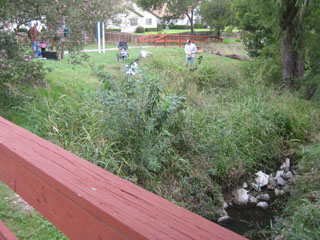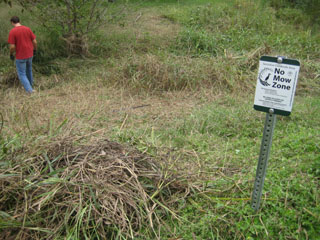 What should park users expect?
As the creek recovers from the mowing disturbance, some areas may have taller, much less manicured vegetation. It can take between 5 and 10 years to start to look like a creekside forest, so patience is important!
Maintenance will continue along trails, around infrastructure and access areas.
Signs will be posted explaining the effort.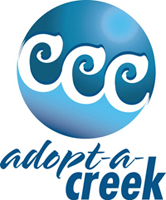 Adopt a stretch of Walnut Creek
Do you live anywhere near Walnut Creek or love some part of it? We need your support to educate neighbors about the benefits of a healthy creek and to bring Grow Zones to as much of Walnut Creek as we can. Most of Walnut Creek has not been adopted at this time. Pick a stretch of a creek near you and apply for the Adopt-a-Creek program at: https://keepaustinbeautiful.org/programs/adopt-a-creek. 
Questions: Please contact Mateo Scoggins, WPD, 512-974-1917
Website: www.austintexas.gov/watershed/creekside
Creek History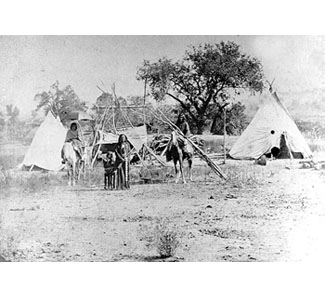 Imagine an undeveloped pristine creek meandering through Indian villages and large settlements in north Austin. In 1833, a hunting party of settlers was attacked by Indians along Walnut Creek. Two men died, while Josiah Wilbarger was scalped and left for dead, yet remarkably survived to live an additional nine years (wearing an old sock over his exposed skull). This was the first recorded instance of Indian conflict in Travis County (Black, Keever, and Morehead 1978:24).
Perhaps the oldest church in the county still conducting services at its original location is Walnut Creek Baptist (founded in 1856) located on the banks of Walnut Creek immediately to the south of the District Park. Legend has it that the outlaw, Sam Bass, used to hide out in the heavily wooded church grounds and stashed part of his ill-gotten gains in the corner of the original sanctuary (Black, Keever, Morehead 1978:24).