Emma S. Barrientos Mexican American Cultural Center Celebrates Mexican Independence with a music concert and gallery exhibit openings
On Saturday, September 15th from 5:00 pm – 8:00 pm, the Emma S. Barrientos Mexican American Cultural Center (ESB-MACC) will be celebrating Mexican Independence Day with a music concert and two gallery exhibit openings.  The music being presented will feature a concert remembering Anthony Ortiz, Jr. 
Entertainment includes the Roy Lozano Ballet Folklorico Dancers, the up and coming ranchera singer, and recipient of the 2018 Awards of Excellence Emerging Artist Award, and Lesly Reynaga. Also performing will be the Ortiz Family:  Mariachi Corbetas will be playing some of the late Anthony Ortiz Jr.'s favorite Mexican songs with a special performance by Eric Ortiz, the ten year old accordionist following in this late brothers' footsteps.  Juan Diaz will also be performing on accordion in the Black Box Theater from 5-8pm.
There will be free parking on the premises and also shuttle bus service from 5-9pm at Sanchez Elementary and Martin Middle School.
Art Exhibits: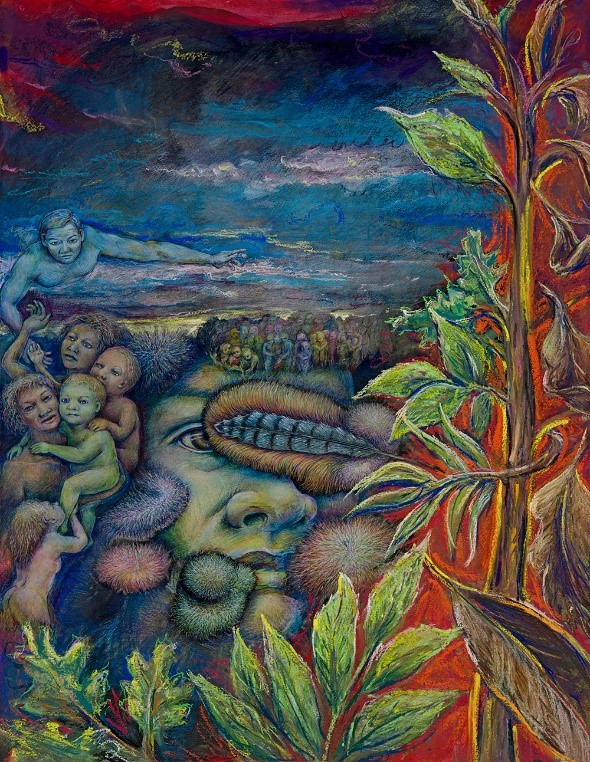 Blue Jay Feather, mixed media on paper, Peter Ortiz, 2018
This year's celebration will coincide with the opening reception for visual artist Peter Ortiz (cousin of the late Anthony Ortiz Jr), beginning at 7pm in the Sam Z. Coronado Gallery.  The opening reception performances include a reunion show by the band Cerronato, with members Clemencia Zapata, Mike Maddock, Brad Taylor, and Javier Palacios. Jillian de la Rosa will also perform original songs, while Tammy Gomez will be presenting spoken poetry, and Yvette Mendez will be conducting a blessing of the space inspired by traditional indigenous practices.
La Yerba Buena by Peter Ortiz
The ESB-MACC will hold an opening reception for Peter Ortiz's show, La Yerba Buena, on exhibit through Nov 25. This show features never-before-seen artwork including the work on paper Blue Jay Feather. Peter's work is rooted in his upbringing in East Austin in the Montopolis neighborhood. His work is intimately tied to his culture and his surroundings and often features elements of nature and the environment intertwined with the human form in various shades of colors that invite the viewer to see the beauty in diversity.
 "In my images or stories, I describe some as spiritual or earthly matters using people in not so ordinary colors to connect with all races, fish, water and plants. I try not to use contemporary elements or clothing in belief this keeps my work timeless"- Peter Ortiz.
Caminos Student Exhibit
Teenagers in the ESB-MACC's Caminos program will present a collection of their artwork in the Community Gallery, located on the first floor of the ESB-MACC. This exhibit invites the viewer into the visual world of Austin's youth, providing insight into the artistic process that students undergo in the Caminos program, which is a paid, year-long entrepreneurial internship program at the ESB-MACC.
Maya Outdoor Sculpture
The ESB-MACC will debut a public artwork, the limestone sculpture, Maya, by Reynaldo Alaniz. The piece was commissioned by TEMPO, the Austin Art in Public Places temporary public art program, in 2017. Maya is a hand-carved limestone sculpture that invites the viewer to consider the history of Mexico's indigenous past. Maya is a modern adaptation of a Chacmool that uses simplified lines and minimal detail to evoke the presence of the ancient figure while holding its own as a contemporary art piece.
Augmented Reality App for Smartphones
The City of Austin has partnered with Augzoo to provide an educational virtual reality tour experience. The Augzoo app allows visitors to the ESB-MACC to listen to inspirational speeches by former Austin mayor Gus Garcia. Smart phone users visiting the ESB-MACC can download the app to hear Garcia's views on race, politics, and leadership.