"Tis the Season" to get to Cracking with your Pecans!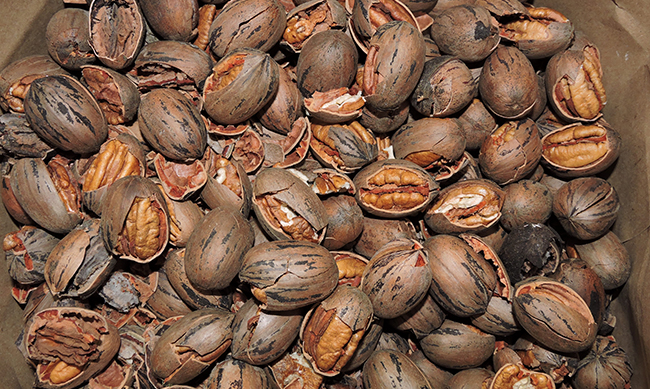 Ok… What season do people "fudge" on their diets; Children get caught "pecan" at their presents; Kids and adults expect to receive "sweet" gifts; Friends and family enjoy jokes, and old stories are "candied" about; School choirs are "pudding" on joyful performances; Old and new stories are "bread"; People "mousse" out on  sleeping in; There are always traffic "jams"; and where the simple addition of a certain nut can make even the most basic dessert taste like a buttery, nutty heaven to your taste buds…?  PECAN SEASON!  And boy does Central Texas have pecans this year!
They're everywhere!  On sidewalks, in the lawn, bouncing off your roof in the middle of the night…what can you do with all of them?  Take them to the Lamar Senior Activity Center and get 'em cracked!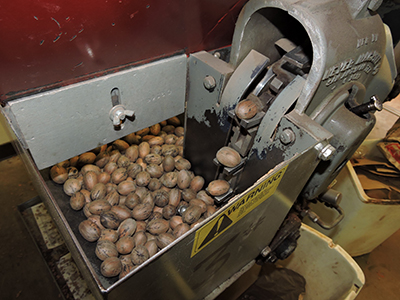 In a building setup specifically for the task of cracking nuts, Charles Davenport (a volunteer nut cracker at the Lamar Senior Activity Center) feeds grocery bags full of nuts into the tops of three pecan-cracking machines.  These machines have chain-link-type metal ledges that pick up the pecans and carry them on a circular metal conveyer belt into the waiting black hole.  Eventually the nuts will travel into the "cracking box" where they are squashed between two heavy metal plates with nubs.   Warning thought…the cracking box sounds like a cross between an out of alignment washing machine on the spin cycle and a dryer with tennis shoes in it (the noise is very loud), but the anticipation of people dropping off their bags of nuts and pecans outweighs any noise they may have to deal with.  Davenport said that in a typical year he usually does more than 150,000 – 200,000 pounds of pecans in a 6 -8 week period, but that this year he expects to outdo that amount because last year's cold weather and rain seem to have increased production of pecans by the trees.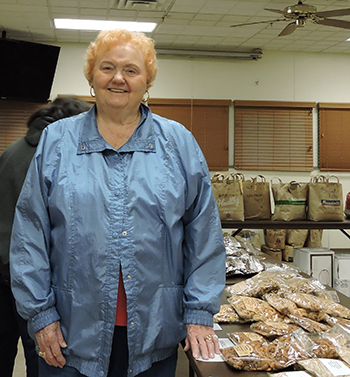 One customer, Helen Miller (who is also a volunteer at the Lamar Senior Activity Center), was standing in a small line.  She had dropped off 300 pounds of nuts the prior week and had come to pick them up and drop off another 200-300 pounds of pecans to be cracked.  She said that her five pecan trees have really outdone themselves this year and that she uses the nuts in baking and giving as gifts during the holiday season.
The low cost of cracking your nuts at the Lamar Senior Center is also a huge incentive… only 50 cents per pound!  Though you still have to take them home and finish taking the shells off, it is well worth the time, effort and 50 cents per pound… and you get great conversation with some really interesting and fun volunteers!  As Miller loves to say, "I love what I do at the Senior Center and keep telling them to please don't cut my pay!" She makes that statement with a mischievous smile and twinkling eyes, knowing that as a volunteer she doesn't get paid in monetary form, but rather she gets to do what she loves and gets to help others out and make a difference at the Lamar Senior Center.
Pecan Cracking at the Lamar Senior Activity Center is currently underway on Monday, Wednesday and Friday from 9am – 3pm. Last day for drop off:  Wednesday, January 21, 2015.  Last day for pick up: Friday, January 30, 2015.  Bring your pecans in bags that you can write your name and phone number on – paper bags work best.  You can also call them at 512-474-5921 with any questions.