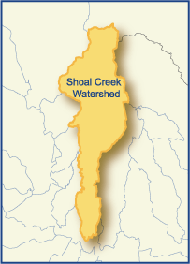 You haven't been in Austin long enough if you haven't seen Shoal Creek…or sat creekside while enjoying a cold drink at a local restaurant…or discovered fossils walking through the creek bed in Pease Park. Flowing through the heart of Austin, from Braker Lane down to Cesar Chavez St, Shoal Creek encompasses the beauty and stresses of an urban creek.
Shoal Creek is one of the most dramatic streams to see during storm events, due to the watershed shape and the high amount of impervious cover. It goes from raging flood to totally dry in a matter of hours.
Although much of the stream channel is highly degraded and of low recreational value, there are several nice spots in canyons west of Mopac and in the upper reaches of the watershed around Koenig Lane/Northwest park.
140 Small hands help beautify Shoal Creek
"This is the best field trip ever!" quote from student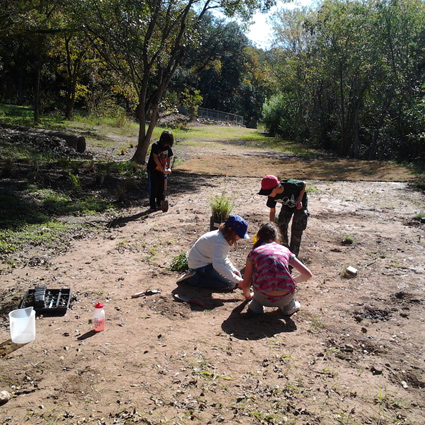 In November, 70 fourth graders from Small Elementary planted native grasses, spread thousands of wildflower seeds, removed stubborn invasive plants, and explored and learned about their watershed.  The Shoal Greenbelt from RM 2222 to New Haven Court in the Allandale neighborhood has been selected as one of several locations for a new "Grow Zone" initiative.  Recent COA projects to mitigate flooding in the neighborhood have caused disturbances of vegetative cover, so COA has also been revegetating the site.  Future projects include repairing stormdrain pipes, creating bioswales to slowly filter pollutants, and improving the hiking trail.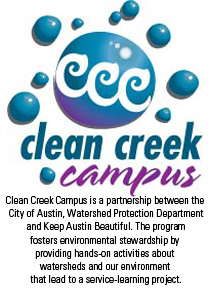 Take Action! Help Shoal Creek
Do you live anywhere near Shoal Creek or love some part of it? We need your support to educate neighbors about the benefits of a healthy creek and to bring Grow Zones to as much of Shoal Creek as we can.  Pick a stretch of a creek near you and apply for the Adopt-a-Creek program at: https://keepaustinbeautiful.org/programs/adopt-a-creek/
Friends of creeks and plants, come to the Shoal Creek Greenbelt at Allandale on January 11th, 2013, at 3:00 for a tour of the Grow Zone and discussion of the current and future ecological state of the riparian zone of this very urban creek.  We will start at the upstream end, just South of 2222, and amble downstream to the large stormwater outfall that was recently completed at the end of the park.  Topics of discussion will be planting and seeding efforts, bioswale retrofits of the three stormwater outfalls that run through the greenbelt, and any topics of interest that come up.
In addition to this educational event, there will be a sapling planting event (Ready, Set, Plant) that needs volunteers on February 9th. Planting saplings will enable us to restore native tree and shrub diversity during drought as well as retain water and improve water quality in Austin's waterways. If you are interested, go to the Treefolks website and sign up! www.treefolks.org.
Here is some more information about Grow Zones, the Allandale Greenbelt at Shoal Creek, and Creekside restoration.
Questions: Please contact Mateo Scoggins, WPD, 512-974-1917, email
Website: www.austintexas.gov/watershed/creekside
Creek Stories and Legends
"During the 1890's buried treasure fever struck Austin inhabitants. Often lights were seen in the dead of night along Shoal Creek in Pease Park and great holes would be found the next morning. Legend had it that Spanish gold was buried here".
1981 Memorial Day flood
"As  I sat on my floating bed, and the ceiling got closer and closer I became more anxious, as I thought it might be difficult to get out if it got above the windows. The large window on the side of the house where the water was exiting was pulsing, visibly, and the movement of the current meeting on the back of the house was pushing back on the glass of my bedroom window…" .  Fina Mae Ross at 6600 Shoal Creek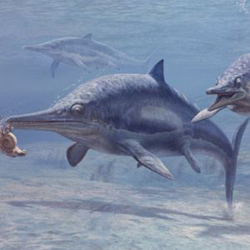 University of Texas students discovered an ichthysaurus on upper Shoal Creek near Northwest District Park during an archaeological dig.  The ichthysaurus is now on display at the UT Natural History Museum.
Groundwater emanating from rocks in and near Shoal Creek forms the several springs in the Rosedale neighborhood.  The Balcones Fault is visible from the 34th street intersection, which was once a creek crossing for the early Native Americans and later one of Austin's first public highways.  
Learn more about Shoal Creek Water Quality www.austintexas.gov/GIS/FindYourWatershed/Factsheet.aspx?id=2