Seasons of Fun...Coupon Idea #5
Congress Bridge Bats
DID YOU KNOW…Texas happens to be the battiest state in the country! It's home to 31 of the 47 species of bats found in the United States, and not only does it hold the distinction of having the most kinds of bats, it also boasts the largest known bat colony in the world near San Antonio, and the largest urban bat colony found in Austin. Visitors from around the world flock to Texas to enjoy public bat-viewing at several locations throughout the state.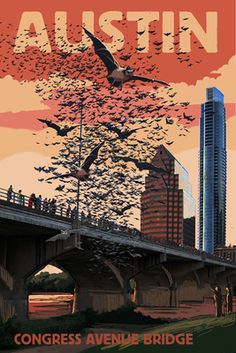 The Congress Avenue bridge spans Lady Bird Lake in downtown Austin and is home to the largest urban bat colony in North America. The colony is estimated at 1.5 million Mexican free-tail bats. Each night from mid-March to November, the Congress Bridge Bats bats emerge from under the bridge to blanket the sky as they head out to forage for food. This event has become one of the most spectacular and unusual tourist attractions in Texas. The most spectacular bat flights are during hot, dry August nights, when multiple columns of bats emerge. There are several points from which to view the Austin bats emerge and an information kiosk is located on the north bank of the Lady Bird Lake, just east of the bridge
When to arrive/What to expect. Realize that a bat emergence is not a predictable event. No one can be sure when bats will come out or if they will even come out at all. Bad weather and other factors can cause bats to vary their emergence times.  To get a great view of the bats emerging, you may either find a spot on top of the Congress bridge, or bring a blanket and/or chair and sit on the hill below the bridge (on the East side of Congress) and enjoy the show!  Most emergences happen right at dusk, so make sure that you're set and ready to go by then!