Seasons of Fun...Coupon Idea #3

Let's go fly a kite!
Zilker Kite Festival
March…the month we wish for all winter long…the hope of sunny skies, warmer temperatures, and the kickoff for the "Austin way of living" – OUTSIDE!  Give your loved one the opportunity to grab a kite, put on their shorts, and spend the day watching as colors float through the air!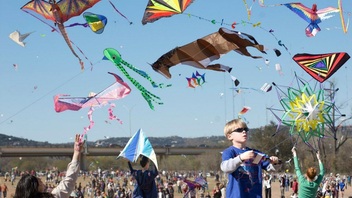 (Picture courtesy of Comfort Suites Lakeline)
Zilker Kite Festival is one of Austin's best-known annual events. Held on the first Sunday of March (3/6/16), it is the kick-off to the hundreds of springtime activities in Austin.
Everyone is welcome to attend (pets too!). There is no admission to attend or to participate in the contest. Most folks just come out to see the spectacular sight of hundreds of kites in the sky and to enjoy a beautiful spring day in the park.
About this blog
In the Parks connects Austinites to the places they love. From youth programming to Austin's premier public spaces such as Zilker Park and Barton Springs pool, In the Parks shares the stories that define our quality recreational, cultural, and outdoor experiences for the Austin community. Join us as we explore what makes Austin's park system one of the best in the world.