O. Henry Museum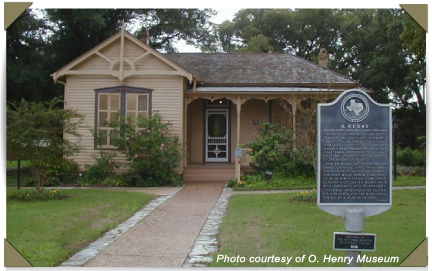 William Sydney Porter (September 11, 1862 – June 5, 1910), is known by his pen name O. Henry, and was an American short story writer. His stories are best known for their surprise endings.
Known as "the master of the short story," O. Henry lived in an1886 Queen Anne-style cottage in Austin from 1893 to 1895.
Now owned by the City of Austin and maintained by the Austin Parks and Recreation Department, the O. Henry Museum offers a look into the life of William Sidney Porter, the man who became famous under the pen name O. Henry. His home has since been restored and now contains artifacts and memorabilia from Porter's life while living in Austin. During his thirteen years in Austin, Porter worked in a variety of occupations. Some of his experiences as a pharmacist, draftsman, bank teller, and reporter would later figure in his short stories. His first nationally known short story, "The Miracle of Lava Canyon", was published before leaving Texas in 1897.
The O. Henry Museum is a great place to learn more about one of Austin's most celebrated authors. Though William Sidney Porter (aka O. Henry) only rented the house during his Austin days, it is a local landmark and provides free docent-led tours from noon to 5 PM every Wednesday through Sunday.
Artifacts from his life abound in the museum, including the wicker chairs that inspired O. Henry's best-known work, "The Gift of the Magi," and plenty of period pieces like his family piano, magazines in which the author's works appeared, and even a map he created while employed at the Texas General Land Office.
In 2015, the O. Henry Museum a Parks and Recreation Department facility acquired a lost story of the famed writer William Sydney Porter, also known as O. Henry, and published a limited edition, fine press book. The lost story, "As Other See Us," has been turned into an original "artist books," by Porter, which includes essays and illustrations by Pulitzer Prize-winning cartoonist Ben Sargent.
About O. Henry
William Sidney Porter was born on September 11, 1862, in Greensboro, North Carolina.
As a young man in March of 1882, Porter traveled to Texas hoping that a change of air would help alleviate a persistent cough he had developed. As Porter's health did improve, he traveled to Austin in 1884, where he decided to remain and was welcomed into the home of friends. He began writing as a sideline to his day jobs and wrote many of his earliest stories here in Austin.
Porter's most prolific writing period started in 1902, when he moved to New York City to be near his publishers. While there, he wrote 381 short stories. He wrote a story a week for over a year for the New York World Sunday Magazine. His wit, characterization, and plot twists were adored by his readers but often denounced by his critics.
In his day he was called the American answer to Guy de Maupassant because of his surprise endings. While both authors wrote plot twist endings, O. Henry's stories were considerably more playful. His stories are also known for witty narration.
Most of O. Henry's stories are set in his own time, the early 20th century, and many take place in New York City dealing, for the most part, with ordinary people: policemen, waitresses, homeless etc.
O. Henry's work is wide-ranging, and his characters can be found roaming the countryside of Texas, exploring the art of the con-man, or investigating the tensions of class and wealth in turn-of-the-century New York. O. Henry had the matchless ability of isolating some element of society and describing it with an incredible brevity and refinement of language. Some of his best and least-known work is contained in Cabbages and Kings, a series of stories each of which explores some individual aspect of life in a sleepy Central American town, while advancing some aspect of a larger plot.
Cabbages and Kings was his first collection of stories, followed by The Four Million. The second collection opens with a reference to Ward McAllister's "assertion that there were only 'Four Hundred' people in New York City who were really worth noticing. But a wiser man has arisen—the census taker—and his larger estimate of human interest has been preferred in marking out the field of these little stories of the 'Four Million.'" To O. Henry, everyone in New York counted.
He had an obvious devotion for the city, and many of his stories are set there—while others are set in small towns or in other cities.  His final work was "Dream", a short story intended for the magazine The Cosmopolitan but it wasn't completed at the time of his death. 
*Among his most famous stories are:
Porter used a number of pen names (including "O. Henry" or "Olivier Henry") in the early part of his writing career; other names included S.H. Peters, James L. Bliss, T.B. Dowd, and Howard Clark.  Nevertheless, the name "O. Henry" seemed to garner the most attention from editors and the public, and was used exclusively by Porter for his writing by about 1902.
* Some information in this article came from Wikipedia.