You are here
Mar 19, 2018 - 10:00 am CDT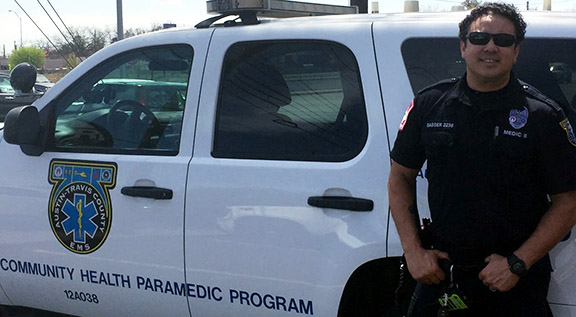 Where are you from originally and what brought you to Austin?
I was born in San Antonio, TX but never actually lived there. I grew up in Dallas, TX and Atlanta, GA. I came to Austin because it was always my dream to move home to Texas.  If I was going to live and work as a paramedic anywhere, Austin was the clear choice for me.
What inspired you to become a medic/What attracted you to this career choice?
I was in college at an engineering school in Georgia with no actual desire to be an engineer.  One day I went to my friend's house who happened to be an EMT going to Paramedic School. She was telling us a story about being at a car wreck, in the middle of the night in the pouring rain and all I could think was, "That sounds awesome... I want to do that!" So, I dropped out of engineering school and went through EMT school and then Paramedic school.
How long have you been with ATCEMS and what motivated you to work here?
I came to ATCEMS in 2006, after working in New Orleans as part of the disaster relief effort after Hurricane Katrina. I wanted to work in Austin because it felt like the best opportunity to have a career as Paramedic and not just a job as a Paramedic.
What is your favorite part about working here at ATCEMS?
The people I work with. We think of each other as family and we take care of each other like family. We take pride in being a part of this department.  Representing our EMS family with compassion and care matters to us.
If you had guests visiting Austin for the weekend, where is the first place you would take them?
I'd take them for breakfast tacos at Valentina's Tex-Mex BBQ Trailer because they'd need to fuel up for a full day on the river.
What is your favorite taco joint in town?
Valentina's Tex-Mex gets my breakfast vote, Torchy's gets my lunch vote, and Polvo's wins dinner.
What do you do on your days to relax and unwind?
Hang out with my family, ride my mountain bike, and go see live music.
Who inspires you?
My parents. They both started out with close to nothing and built successful careers.  They always made it a priority to be good people and treat others with kindness and respect.
What is the next place you would like to visit?  Why?
Big Bend. I've been to many other countries and all over the US but just haven't gotten around to Big Bend…yet.
Word of advice for an aspiring medic?

It's not all blood, guts, drama, and glory like the you dreamed it would be and it's not always going to work out perfectly like you prepared.  Remember that we're in the business of not just caring FOR people, but ABOUT people. Always treat people with respect and do the best you can for them both big and small.  And after everything is said and done, you'll know that you have done something great. Oh, and HAVE FUN! This job is awesome. They make TV shows and movies about what we get to do everyday. How cool is that?
___________________________________________________________________________
Questions about a career at Austin-Travis County EMS?  Reach out to Recruiting at EMSRecruiting@austintexas.gov.  
Want to receive notifications when we're hiring?  Complete an interest card here.
Keep up with the daily lives of our medics on Instagram: @atcemsmedics
---