You are here
Feb 12, 2018 - 11:01 am CST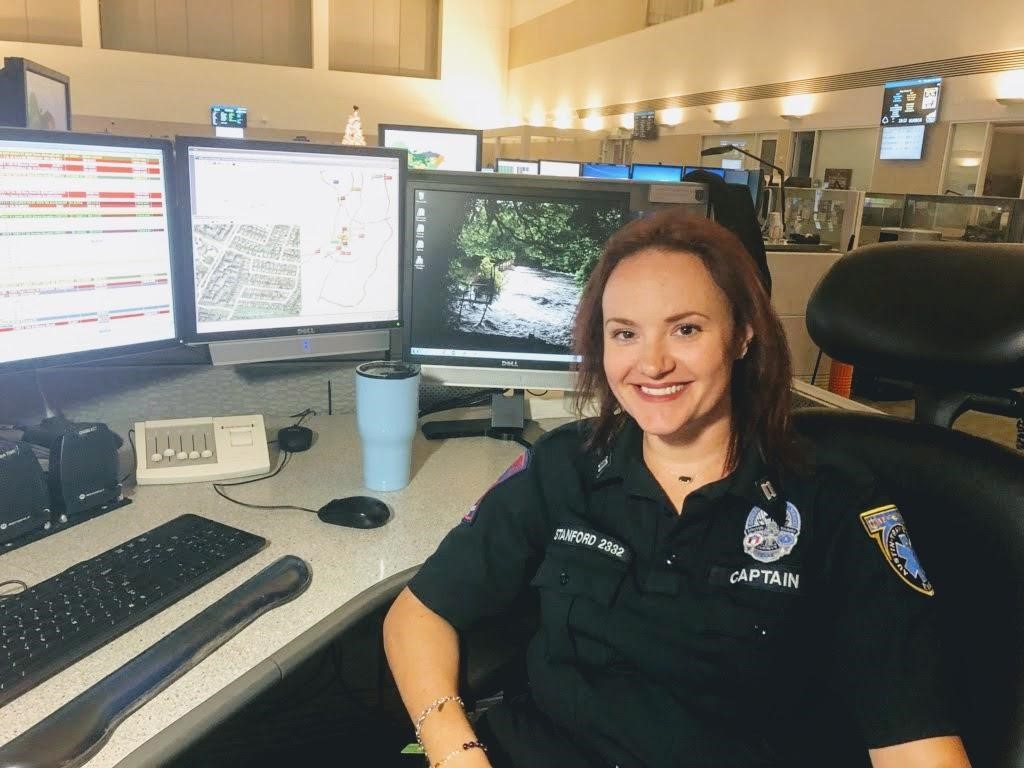 Captain Leslie Stanford in Communications, handling QI/QA for the night shift.
Where are you from originally and what brought you to Austin?
I was born and raised in Llano, Texas and I moved to Austin when I was 15.  Growing up, Austin represented joy and happiness to me, so I came here and never looked back.
What inspired you to become a medic/What attracted you to this career choice?

I spent a lot of time injured as a child. During those emergencies, I meet many friendly faces who reassured and helped me.  Through that, I knew I also wanted to grow up and help people.  Eventually, I stumbled across paramedicine, and then EMS Communications...where I fell in love with the job. I love the fast paced environment, technology, thinking quickly on my feet, working as a team, and ultimately the ability to help save someone's life.
How long have you been with ATCEMS and what motivated you to work here?
I've always known ATCEMS was one of the best, which has kept me here for nearly 11 years!  The department takes a lot of time and effort to train their employees, offers a diverse range of opportunities to work in, and compensates their employees well.  I also appreciate how advanced the medicine and technology is at ATCEMS.
What is your favorite part about working here at ATCEMS?
The same reasons from my answer above AND the family and friends I have found here.  The lives I have personally been able to change on a daily basis far surpasses everything else.
If you had guests visiting Austin for the weekend, where is the first place you would take them?
This is Austin! The introduction is as important as the conclusion! I'd start and end at one of my favorite local eateries - Enoteca Vespaio.  Then on to Texas Honey Ham, and fill the in between full of our beautiful outdoors. Be it swimming at Barton Springs, kayaking on Lady Bird Lake, or hiking/biking one of the trails.
What is your favorite coffee/tea spots in town?
Monkeynest.  The best Persian Tea!
What do you do on your days to relax and unwind?
I love being outdoors and exploring. I enjoy training for triathlons, quilting, refinishing furniture, and visiting local breweries.  
Who inspires you?
My many friends and family whose presence in my life call forth only the best from me. They inspire me by reaching for their own goals, pushing themselves and me at times, and being there for each other when we fall. Showing me through gratitude, mindfulness, and patience that I will become the best version of me. All those quotes about the "company you keep" come to mind.  Always keep company with those that uplift and inspire you.
What is the next place you would like to visit?  Why?
Havasupai Falls, Arizona is next on my list. It's a challenge with a reward at the end. 10 mile hike deep into the Grand Canyon to find crystal clear blue waterfalls!
Word of advice for an aspiring medic?

Build your toolbox up:  Constantly learn new skills, try new opportunities, and develop yourself professionally. Work hard and remember you can change someone's life everyday by simply showing you care. Take care of yourself because you can't pour from an empty glass.   And always smile!
Questions about a career at Austin-Travis County EMS?  Reach out to Recruiting at EMSRecruiting@austintexas.gov.  
Want to receive notifications when we're hiring?  Complete an interest card here.
Keep up with the daily lives of our medics on Instagram:  @atcemsmedics
---