You are here
Jan 29, 2018 - 09:41 am CST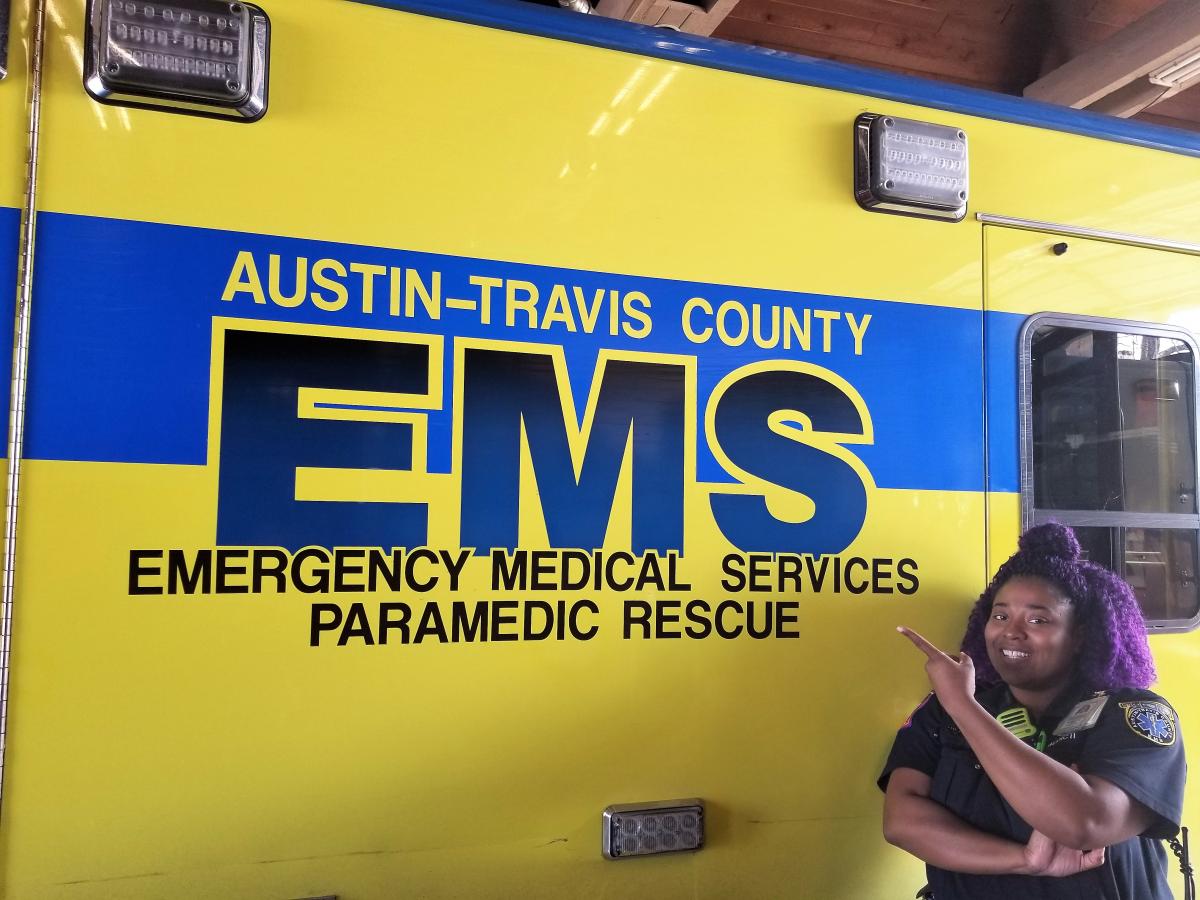 Where are you from originally and what brought you to Austin?  
I'm a military brat.  My father was in the army so we moved around a couple of times.  My mother's side of the family is from Elgin so when it was time for my father to retire we moved to Elgin in 1994.
What inspired you to become a medic/What attracted you to this career choice? 
My father was an army medic and some of his stories inspired me.  Aside from the medical aspect of this career, I also like the fact that we actually help people at what may be the worst time in their lives.  Not every call is going to be an awful trauma, but if I could just be a bright spot in someone's day, then that makes me happy!
How long have you been with ATCEMS and what motivated you to work here? 
I've been with the department for 10 years.  I'm motivated to work with people that love the career.  I not only take pride in my career but also in the department I work for.  I work with the most amazing people in this city.  I like the fact that not only the city trusts us to take care of them, but also our "higher ups."
What is your favorite part about working here at ATCEMS? 
The snacks at the hospitals (just kidding!).  I like that I can inspire children to someday do this career.  My husband and children look up to me and that is an awesome feeling.
If you had guests visiting Austin for the weekend, where is the first place you would take them? 
If they felt like waiting in line, Franklin's BBQ would be the place.  I would also like to go to Salt Lick BBQ, too.  (Can you tell that I love BBQ?)
What is your favorite taco joint in town? 
The easiest question would be what is my least favorite taco joint in town - haha!  I guess my favorite would have to either be Casa Garcia or El Rincon.
What do you do on your days to relax and unwind?
I'm a liturgical praise dancer and minister at my church so when I'm relaxing I'm actually practicing my praise dancing.  I also teach the children praise dancing at my church. 
Who inspires you? 
My mother inspires me.  I come from a long line of strong women pastors.  They have all taught me that you can be anything that you aspire to be even in the face of adversity.
What is the next place you would like to visit?  Why? 
I would love to visit the Bahamas.  Why?  I mean come on, it's the Bahamas!  Seriously, I just want to go somewhere tropical, eat good food and not worry about getting fat.  Yes, I said that - haha!
Word of advice for an aspiring medic?
I would tell an aspiring medic that if they are getting into this field for blood and gore, then turn around now.  This career is more than that.  It's about the grandma who calls because she needs her blood pressure checked, or the grandpa who fell, or the woman who is hypoglycemic, or the man who is suicidal and needs someone to let him know that his life is more valuable that he thinks.
It's about the people you encounter every day that call because they need your help with their issue and you can show them that you care.  What people don't realize is that sometimes just a small amount of kindness goes a long way.  Anyone can be taught skills but not everyone can be taught to have a good attitude.  Your attitude determines your altitude. 
---