You are here
Mar 12, 2018 - 09:07 am CDT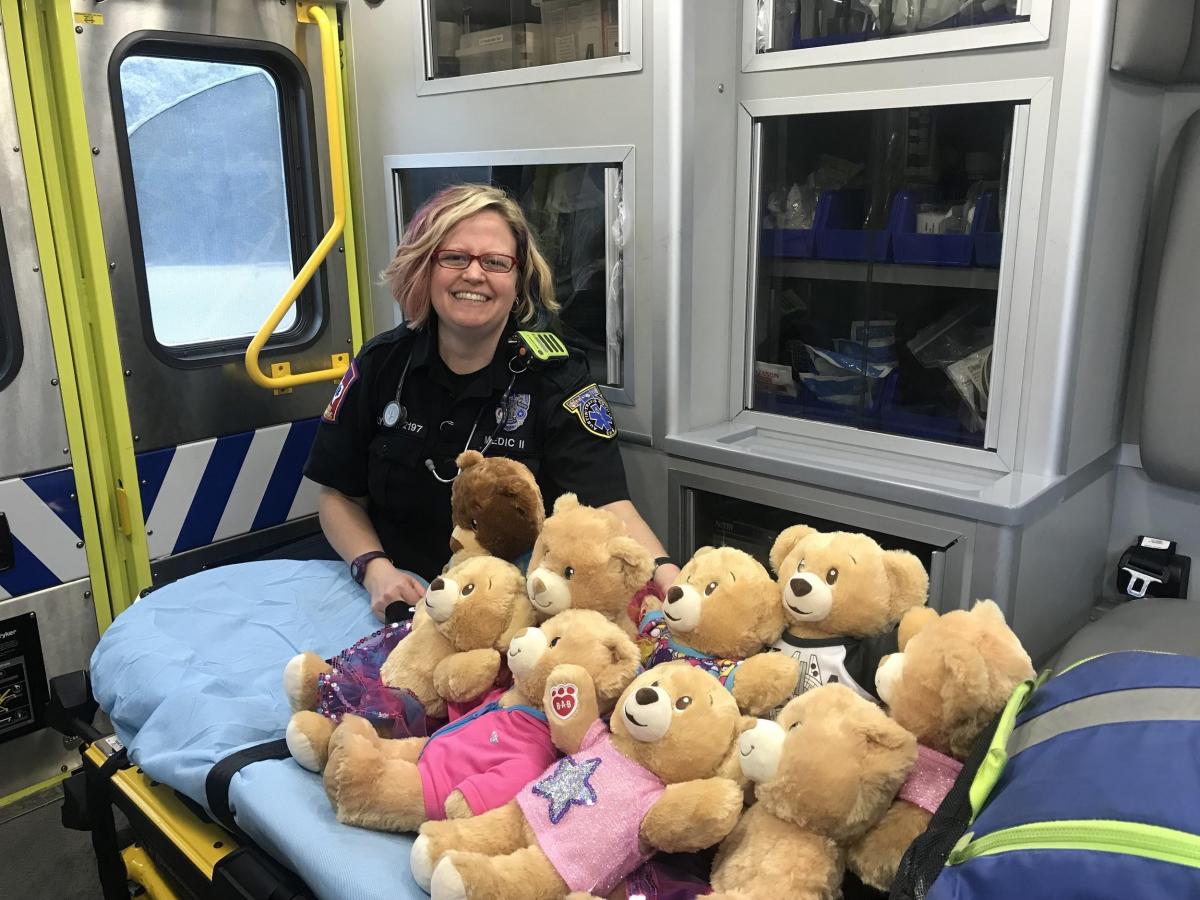 Where are you from originally and what brought you to Austin?
I'm originally from just outside of Baker, NV (population of approximately 70). I moved to Austin specifically to work for Austin Travis County EMS after doing my paramedic clinicals here.
What inspired you to become a medic/What attracted you to this career choice?
My initial introduction to EMS was through my dad, who was a volunteer EMT-B where I grew up in Nevada. Some of my earliest memories are of going with him to trainings and being a practice patient for scenarios. I always knew I wanted to get at least my EMT-B, which I did though Wilderness Medical Institute of NOLS (National Outdoor Leadership School) one summer while I was in college. The great thing about the WMI EMT class is that it's not only a full National Registry EMT class in only 4 weeks, there is also a wilderness medicine aspect so you learn all kinds of great extra information and it really pushes critical thinking. After I got my bachelor's degree, I decided to go to paramedic school. My original plan was to go to medical school afterwards and use my time as a paramedic to gain patient care experience and make sure that I loved medicine as much as I thought I did. I found that I did love medicine, and specifically EMS, and as my training progressed my interest and love of the field only increased. While the medical school aspect of my dreams didn't pan out, it was okay as I have a job I love and I have daily the privilege of caring for others as a paramedic with ATCEMS.
How long have you been with ATCEMS and what motivated you to work here?
I just had my 12-year anniversary with ATCEMS in January. After completing my internship with ATCEMS, I knew that I wanted to work here. I wanted to work for a system with progressive protocols, one that prioritizes customer service, and one that values employees. I like that the department gives us great tools to do our jobs (Power-LOAD stretchers, state of the art ambulances and safety gear - ballistics vests and turnout gear, and a Peer Support Team) all of which increase our ability to have a lasting and fulfilling career.  The city also will reimburse up to $2000 per year for college classes, which I saw as a great opportunity to continue my education.
What is your favorite part about working here at ATCEMS?
My favorite part of working at ATCEMS is the people, which include both my co-workers and the patients. I work with amazing people that I wouldn't have met otherwise, several of whom have become some of my closest friends. Also the support that I have seen when coworkers were in need was truly impressive, be it by donating sick time, or raising money for and installing a hot water heater when someone's suddenly broke, helping to pack up their belongings when someone was moving to a new home, or just texting or calling to check in after a hard call. One of the best parts of my job is having the opportunity to hear the stories of the patients that I take care of. I have heard stories about growing up on the large ranches in the area when the main mode of transportation was still horse and buggy, people who were present at defining moments of the 1900s and hearing first hand how those events impacted them, and smaller things like getting to meet celebrities.
If you had guests visiting Austin for the weekend, where is the first place you would take them?
Oooh, that's a tough one. For food, I'd say either Torchy's Tacos (it's tacos, how can you go wrong?) or Cypress Grill (a delicious Cajun place). Amy's Ice Cream is another must stop at place in Austin. For things to see and do, in Austin proper I would say the LBJ Library or going for a walk around Lady Bird Lake followed by going kayaking on the lake. If there were time, I'd say a drive out to the LBJ National and State Historic Park and the living history farm there, then Enchanted Rock with a stop in Fredericksburg on the way back to Austin. And if it's late summer a stop for fresh, homemade peach ice cream as you leave Fredericksburg.
What is your favorite taco joint in town?
Oops, I guess I spilled the beans on this one already but Torchy's. There are lots of yummy ones but I often get the Taco of the Month.
What do you do on your days to relax and unwind?
This is the first year since I started at ATCEMS that I haven't been taking classes or applying to schools, so I am thoroughly taking advantage of the extra free time. I have started a daily mindfulness and meditation practice that helps to center me. I try to work out every day, even if it's just on the elliptical at my house. I am a member at one of the rowing clubs so going out sculling on the lake is another favorite. I spend time with friends and enjoy getting to be "Auntie Cassi" to their kiddos. I cook and bake and usually bring things I make to work to give away to other crews, fire crews, and hospital staff. I am a voracious reader and will often finish a book or more a week. I try to travel, in the US or internationally, as much as I can.
Who inspires you?
I have so many people who inspire me. My mom with her willingness to help others and her firm belief in building a sense of community and working with others towards a common goal. And her ability to stay connected to friends all over the country- she sends cards and letters all the time to people to stay in touch (who does that anymore? I try to follow her example but don't always succeed in this). My dad and how he overcame challenges and lived life on his terms, along with his sense of adventure. My many incredible friends who follow their hearts and dreams fearlessly, no matter how hard the road they chose might be. I love that my friends are people who are true to themselves, proud of who they are, and who stand up for others that might not be able to advocate for themselves.
What is the next place you would like to visit?  Why?
This is a tough one. I have so many places still on my list. Scotland is definitely one of the ones at the top of my list. It's a country that has featured heavily in several books that I love and it looks beautiful. Plus, it would be easy to add on some time elsewhere in the UK on the same trip. I also really want to go back to New Zealand. I spent my last semester of college there and I can't wait to go back. It's one of the most beautiful places I have ever been. 
Word of advice for an aspiring medic?
Stay healthy: mentally, physically, and emotionally. EMS is incredibly rewarding but it is hard on you. We work long hours and those shifts can be incredibly busy. It's important to prepare for this. I have a cooler with food on the truck with me- this way I know that I always have access to healthy foods and I won't get hangry (and any of my long-term partners can tell you being hungry is one of the few ways to guarantee a grumpy Cassi), plus I won't be tempted to eat junk food. Try to get a good sleep routine, stick to it, and make getting rest a priority. I try to work out to reduce my chance of injury since the job is so physical. Be prepared that most of what we see isn't the heart-pounding, life-threatening emergencies that you see on TV and in movies. So much more of what we do is listening and trying to help get to the root cause of why someone called and connecting them with the resources they need (our Community Health Paramedics are such a great resource for this). But we will see horrible things and you need to learn how to process those calls in healthy ways. For me, it's talking through them afterwards. I analyze what went well, what I'd do differently, and what other things could have happened that I might need to be prepared for in the future. And by talking about a call it helps to move it from the front of my brain where I keep replaying things to a place where I can remember the calls but not see them in living color (the sounds, smells, feel, etc.). Having a physical outlet helps with this, too, along with my mindfulness practice. I'm on our department's Peer Support team and it helps knowing I can always reach out to someone else on the team to help me process a tough call or if things in my personal life feel overwhelming. It is all about keeping your resilience high so that you can help others without letting it run over into other parts of your life. 
__________________________________________________________________________________
Questions about a career at Austin-Travis County EMS?  Reach out to Recruiting at EMSRecruiting@austintexas.gov. 
Want to receive notifications when we're hiring?  Complete an interest card here.
Keep up with the daily lives of our medics on Instagram: @atcemsmedics
Follow us on Facebook!
---