Each year, as part of the People's Gallery exhibition at Austin City Hall, the public is invited to vote for their favorite artwork in that year's show. For the 2015 exhibition, the oil painting Sedona Lake, by artist Lawrence Jolly, was selected as The People's Choice. Mayor Adler and District 6 Council Member Don Zimmerman will present Jolly (a resident of District 6) with a Certificate of Congratulations at the February 25, 2016, City Council meeting as Jolly's painting becomes part of the permanent collection of the City of Austin.
Jolly strives to connect the spiritual and natural worlds through his realistically rendered paintings, though also includes surrealist painters like Salvador Dali and Rene Magritte among his influences. Sedona Lake is a diptych depicting a pastoral scene of a lake juxtaposed with a smiling young girl riding a rocking horse. Jolly was inspired to paint the lake after seeing a photo of a lake scene on a friend's Facebook page. After starting the landscape, the artist wanted the work to better reflect his remembrance of sacred places from his youth and joy of childhood. Jolly paired the landscape with a portrait of young Sedona, the daughter of a friend, upon a slightly submerged rocking horse once used by Jolly's daughter.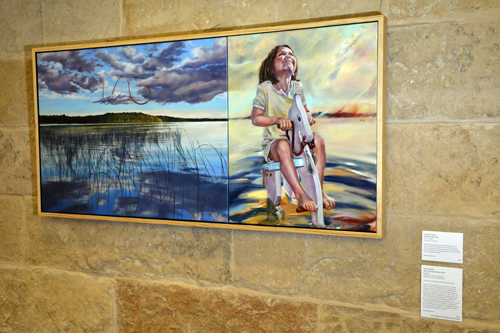 "Sedona Lake" was displayed in the 2nd floor lobby as part of the 2015 People's Gallery exhibition.
The water below and sky behind the young girl is rendered so as to imply a dream state. The girl connects the memory of her childhood safe-place through her horse, loosely tethered by a braided rope that also appears in the lake scene hovering in the clouds representing the infinity of time.
Jolly previously worked as a graphic designer and owner of Jolly Design. Jolly is now a full time studio artist and participated in Artist INC Live Austin with the City of Austin's Cultural Arts Division last fall. Artist INC Live is a competitive and nationally recognized 8-week long seminar that trains creatives from all disciplines on the business skills they need to build a successful arts business and sustainable career.  Jolly said, "I am so grateful for the people in my life who have loved, supported and encouraged me to pursue this passion."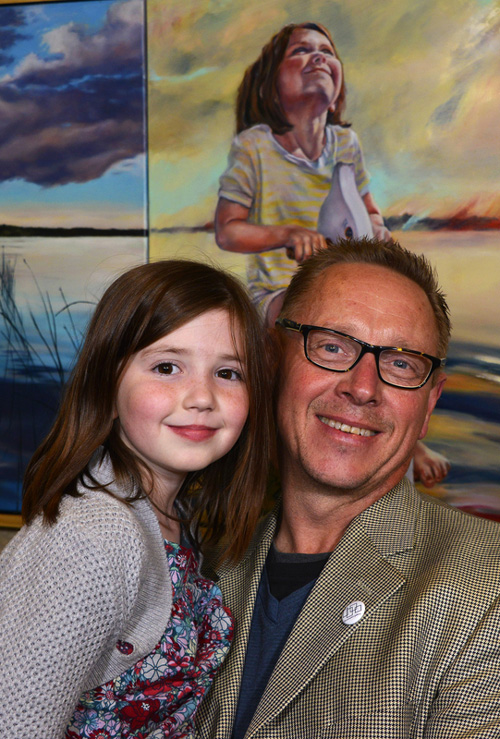 Artist and Model: Lawrence Jolly poses with Sedona, who modeled for his painting "Sedona Lake"
Sedona Lake can be seen on the third floor of Austin City Hall, as part of the 2016 People's Gallery exhibition. Other works by Jolly will be exhibited during the West Austin Studio Tour May 14-15 /21-22, 2016, and more information is available at LawrenceJolly.com.
This year marks the 12th annual People's Gallery exhibition. The opening reception is Friday, February 26, from 6-9 pm at Austin City Hall (301 W 2nd St). The 2016 exhibition will be on view Monday through Friday, 8am-5pm, through January 2017.