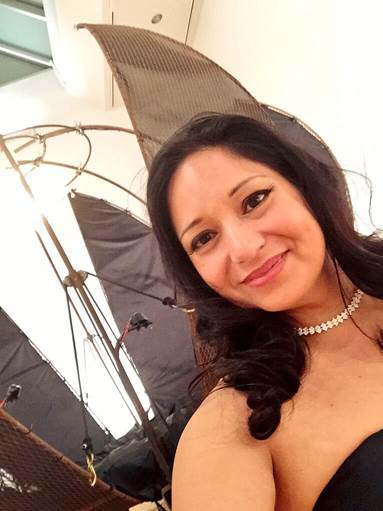 Multidisciplinary artist Katelena Hernandez Cowles was one of 24 local artists who participated last fall in Artist INC Live Austin, a unique eight-week training program that addresses the specific career needs and challenges of artists. Her performance piece Comfort Station received a 2014-2015 Austin Critics Table Award nomination for Work of Art: Independent or Public Project and she participated in the exhibition Gently Fried, curated by Los Outsiders, which received the 2014-2015 honors for Group Gallery Exhibition.
Applications for the 2015 session of Artist INC Live are open through July 6, 2015 at austintexas.gov/artistincatx.
The Cultural Arts Division's Administrative & Marketing Assistant Calder Kamin interviewed Katelena for this blog.
Calder Kamin: Please describe your art practice, including current projects you are working on and where people can find out more about your art.
Katelena Hernandez Cowles: I am a multidisciplinary artist whose work fuses performance, sculpture, installation, vocal music, interpersonal interaction, and social activism to explore comfort-giving, and the issues and economies surrounding it. My work is highly variable, but always affectionate. My recent work ranges from Little Lamb, a grassy hill that sings the iconic William Blake poem as a lullaby when one lies on it; to Treatsuit, a gleaming, zippered gift-giving jumpsuit; to Comfort Station, a pop-up emotional day spa with bedtime rituals, full-attention sessions, and an array of blankets and wearable sugar soothers; and Whatever Lola, which merges hero worship, Latina film goddesses, karaoke, and a 12-foot-high mechanized metal sculpture to explore stereotypes and personal transformation. Images of these pieces and more information about my body of work can be found at my website, katelenahernandez.net.
CK: What were the most valuable things you got out of Artist INC?
KHC: I was very proud to be chosen and to participate in Artist INC. Spending time with artists across disciplines proved to me that we are all facing similar battles in finding space and funding to create new work, audiences to experience it, and publicity and documentation to make it better known; as well as ways to manage our crazy schedules, accounting, and legal needs (some of which we didn't realize we needed until we got there!). I have gained so much energy from sharing stories and ideas with some of the most talented and accomplished artists in Austin. The links l've made with the other participants are my most valuable booty from the program: already in the last year I've collaborated with four of my classmates on new projects, gotten recommendations for assistance, grant programs, and advisors I'd never have known about from several more, and am brainstorming future projects with another three. The program's encouragement to use social media and mailing lists in new ways, I think, had something to do with my being nominated this year for the first time for an Austin Critics' Table award, which was very exciting.
CK: Why would you encourage other artists to apply for the program?
KHC: While it is a serious time commitment, for me, it was very much worth it. It gave me new ideas - and more than anything, reassurance that while making art is a hard business, it can be managed with creativity, organization, hard work, collaboration, and a lot of shameless self-promotion. I recommend it highly to anyone ready to take the next step in their career, anxious to connect to the wider world of Austin arts, or wanting some rejuvenation in a more settled art career.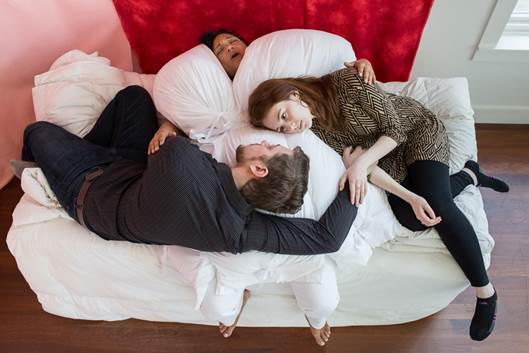 Comfort Station, 2014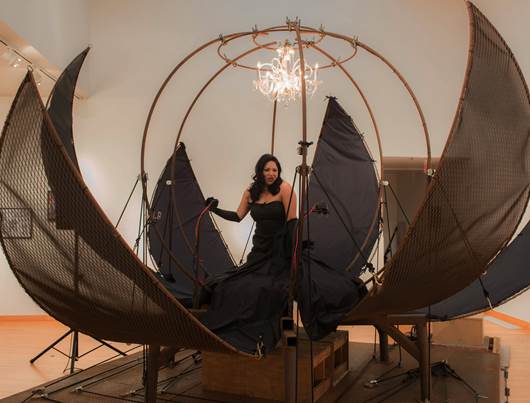 Whatever Lola, 2013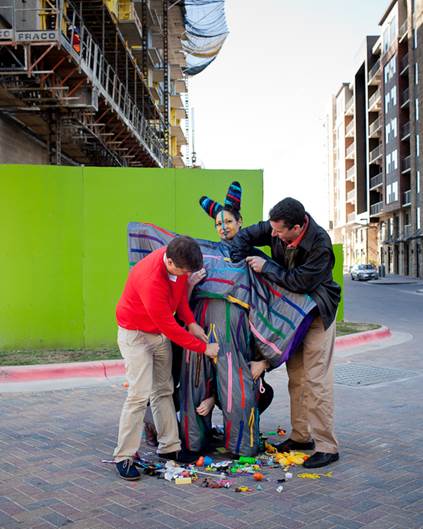 Treatsuit, 2013
All photos courtesy the artist.