Hyde Park residents "did without supper" for better streets 100 years ago
One hundred years ago this week, on June 6, 1912, the Austin City Council was ordering street improvements and sidewalk construction downtown.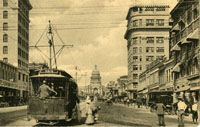 But while the Austin Daily Statesman in 1912 reported that City Council had ordered brick or bitumen paving through most of the downtown streets, those who lived on the less-beaten paths were pushing for pavement.
One hundred men from the Hyde Park Civic Improvement Club visited City Council during an evening meeting in late May to petition the City to establish and repair streets in Hyde Park.
According to a May 28, 1912 newspaper article: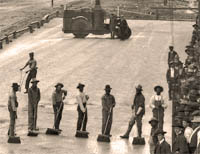 "George Mendel Jr. rose and talked briefly. He thanked the Council for the manner in which they had listened to the petition and added that he hoped they would find sufficient merit in it to make the streets in Hyde Park permanent. Mr. Mendell (sic) enlivened the evening by telling one of his choice anecdotes, for which he has a reputation. He alluded to the fact that when citizens of a community were willing to do without their supper as the majority of them had done that they certainly deserved consideration."
*The photos above can be purchased from the Austin History Center using reference number: "C02001-B" (right) and C00606 (left).