Wondering where you can recycle Styrofoam?  We have answers.
In our individual efforts to reach Zero Waste, many of us try to avoid plastic foam (also known as Styrofoam) packaging. We choose egg cartons made of hard plastic or cardboard or take a reusable coffee cup rather than grabbing a disposable Styrofoam cup.  But even for conscientious consumers, sometimes Styrofoam packaging cannot be avoided. For those occasions, Austinites now have a free recycling option at the Recycle & Reuse Drop-Off Center.
Austin Resource Recovery sat down with Diversion Facilities assistant manager Andy Dawson to answer the most common questions about Styrofoam recycling at the center.
So where can I take plastic foam for recycling?
The Recycle & Reuse Drop-Off Center now accepts plastic foam.  We are located at 2514 Business Center Drive.

What kinds of plastic foam are accepted?
What is accepted:
Plastic foam made from polystyrene - commonly found in egg cartons, food packaging, meat trays, to-go containers, disposable plates and coffee cups, foam ice chests and in shipping and packaging materials.
Plastic foam made from polyethylene, commonly used in shipping and packing items such as electronics
What is not accepted:
Packing peanuts or soft foam, such as the foam typically found in mattress pads
Plastic foam that is attached or glued to other materials, like cardboard or plastic film
Tip: Make sure plastic foam is clean and dry before dropping off. It may be necessary to rinse containers to eliminate any food contamination. Employees at the center can sort any foam you bring and help you determine what's acceptable.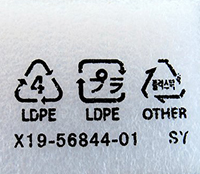 How is plastic foam recycled?
The center has a machine that shreds and then melts the plastic foam, condensing the foam and removing air so it's suitable for shipping.
Why are there different guidelines for packing peanuts?
Packing peanuts are difficult to contain, especially since the processing takes place outside. The peanuts can litter the facility with even the slightest breeze. We recommend taking packing peanuts to a shipping store, such as UPS and FedEx locations, where they can be reused in packaging.
Why isn't plastic foam recyclable in my blue cart?
Plastic foam is not accepted in the blue cart because it would break into very small pieces in the collection truck before it reaches the sorting facility. Once it is broken into small pieces, it's nearly impossible to contain and sort into recycling.  Drop-off locations are the best recycling option for this material.
After dropping off your Styrofoam at the Recycle & Reuse Drop-Off Center, be sure to check out the ReUse Store to pick up free household cleaners and garden supplies. You can also get free mulch and ReBlend  paint for all your spring-cleaning needs. Household hazardous wastes, plastic bags, electronics, batteries and single-stream recycling are accepted Mon. – Sat.  Visit the website or call (512) 974-4373 for more info.