Hospital received "Facelift", head nurse "transplant" 100 years ago
The Austin City Council 100 years ago was still dealing with the fallout from a City Hospital controversy. Two women, the Head Nurse and the Matron, had been fired because they did not work well together.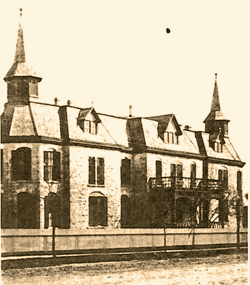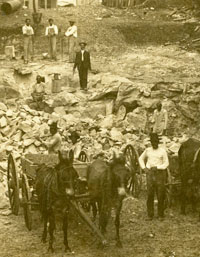 Top: City / County Hospital as it appeared in the 19th century. // Bottom: Downtown Austin construction work in the early 19th Century.
This week, on June 28, 1912, the City Council had to decide what to do with the vacant positions at the City Hospital (known today as University Medical Center Brackenridge). The new Matron would need the skills of a nurse and of an executive, said Council Member Hart. Hart proposed a salary increase for the position.
"…believing that a person combining such qualifications cannot be obtained at the present Salary of Matron, to-wit: $50.00 per month, and that one can be obtained at a salary of $65.00 per month…" Hart said as justification for the increase.
The new Matron would make $780 a year. Meanwhile, $50,000 was to be spent on building the new hospital, thanks to a bond that had passed and campaigning efforts by Dr. Robert John Brackenridge.
The new Matron perhaps got to know Dr. Brackenridge well in the years to come. Brackenridge, who was retired, became the unofficial overseer of the new building's construction, according to "The Best and the Basics," a history of the hospital available at the Austin History Center. The history states:
"The image which was passed down thorough the decade is of Dr. Brackenridge on the Hospital ground every day, his horse and buggy tied to a live oak tree, watching the building take shape."  
  Photos used in this blog are available for purchase from the Austin History Center.